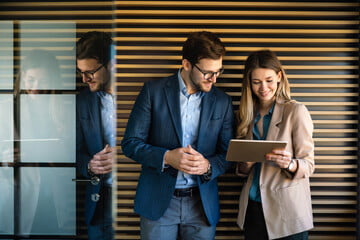 What Are the Top 9 Corporate eLearning Solutions For SMEs You Should Know
It's possible that your budget won't allow you to outsource every eLearning task. In order to receive the best value for your money, which corporate eLearning solutions should you entrust to producers of custom eLearning content? Here are the top 9 corporate eLearning solutions for SMEs to consider.
Read: Consider Best 8 eLearning Options For Your Online Compliance Training Courses
Questions You Should Pose To Your Custom eLearning Content Provider
To handle job problems, develop necessary abilities, fill skill gaps, and maintain compliance, your staff requires up-to-date online training materials. Custom eLearning material production can be time-consuming and frustrating for your L&D team because there are so many topics to cover.
You've decided to outsource to eLearning businesses because of this. However, the amount of money you have set aside for vendor-led eLearning programs is limited. Which leading corporate eLearning solutions ought to be at the top of your list of priorities? Which online training specialties are most likely to boost ROI and enable you to make the most of your resources?
eLearning Content Conversion
You might have resources that are just out-of-date or don't have a format that works with your current LMS. You may easily and affordably adapt these online training resources with the aid of eLearning firms.
For instance, the PowerPoint library that has been gathering dust could be reducing compliance risks and enhancing performance at work. To acquire a precise estimate from an eLearning vendor, make sure you conduct a thorough asset inventory beforehand.
Training Needs Analysis
Due to their high emotional stakes, many firms are unaware of internal online training gaps. Or they've simply figured out how to avoid the discomfort. To find and fill in the gaps, a custom eLearning content provider offers their knowledge.
They can identify undiscovered possibilities for development and come up with creative solutions to deal with them. Instead of wasting valuable online training resources on ineffective online training projects, you can concentrate on the problems.
Online Training Storyboarding
Some producers of custom eLearning content are experts in every facet of the planning process. Especially creating storyboards for online training that incorporate crucial ideas, images, and interactive aspects. After that, they can proceed to make all of these elements come to life.
Alternately, provide your internal staff the online training storyboard to reduce their workload and streamline the creation process. If you decide to go with the latter, ensure sure the eLearning vendor offers clear instructions for your personnel to follow.
Gamification Design
Gamification, which includes badges, leaderboards, levels, and points, boosts employee motivation and enables you to monitor how well they respond to online training. Because of this, even if you're strapped for cash, your SME should consider making the investment.
Custom eLearning content providers are aware of your employees' motivations and how to engage them emotionally. They can create a customized gamification strategy that increases involvement without going over budget and works best for your firm.
Subtitling
It might surprise you to learn that corporate eLearning solutions include this, but subtitling increases the accessibility of online training. The same eLearning experience is provided to online learners with special requirements, such as those who have hearing difficulties.
Similar to desktop users, mobile users can activate the subtitles to take in the content when in busy areas. Translations are another option for a tie-in. especially if you are an SME with immediate expansion plans.
Simulations
Nothing gives workers more real-world experience than throwing them into a job problem and asking them to make use of their innate skills. Because of this, simulations are among the best corporate eLearning alternatives. They encourage learning through errors and practical application.
To get over the challenges, employees must stay smart and make use of their knowledge and abilities. Additionally, this offers tailored eLearning feedback so that participants in employee training can concentrate on areas that need development.
Microlearning
SMEs with smaller staff levels must keep their best employees. Additionally, provide them with all the online training materials they require in order to close gaps and enhance job performance. Since microlearning offers JIT support, it checks all of these conditions.
Your current online training library can be assessed by eLearning businesses to identify resource drainers and expanded it in accordance with the current online training objectives. There are many bite-sized activities, for instance, that no longer support the organization's objectives or use outmoded design.
When you can create JIT online training resources that cater to the demands of your present workforce, why spend additional money maintaining these assets?
Mobile Learning
Employees of today expect accessibility on the go. Your SME enters the digital era with the help of an expert in responsive design and mobile learning who creates custom eLearning courses. Employees can fill in the gaps on their own and use online training resources from a distance.
Mobile learning is more complicated than simply adapting already-existing online training materials. To make it mobile-friendly, a design change is frequently necessary. Small hyperlinks, for instance, can be readable on a large screen but inaccessible to smartphone users.
Video and picture compression is required. eLearning content suppliers are skilled in converting your eLearning course design into a team-wide online learning environment.
When it comes to outsourcing for eLearning, nothing is certain. Prior to the launch, when the metrics start to pour in, you won't know whether the expense of creating unique eLearning content is worthwhile. However, certain corporate eLearning programs are regarded as a "safe bet."
To better allocate resources for online training, for instance, it never hurts to perform a training needs analysis. Or to expand your microlearning online training library so that staff members have complete access to JIT support. And eLearning providers, with their specialized knowledge, assist you in achieving all these online training goals at a lower cost.
Bespoke eLearning
There are many different services included in the customized eLearning category. You employ eLearning businesses to develop custom eLearning content based on your online training objectives and outcomes rather than buying off-the-shelf solutions.
Everything is tailored to your demands for online training and the preferences of your staff. The drawback is that custom eLearning is typically more expensive. However, because customized online training cuts down on internal development expenses, many SMEs choose it.
For instance, since the eLearning vendor already has these skilled workers on staff, you no longer need to engage an SME or ID.