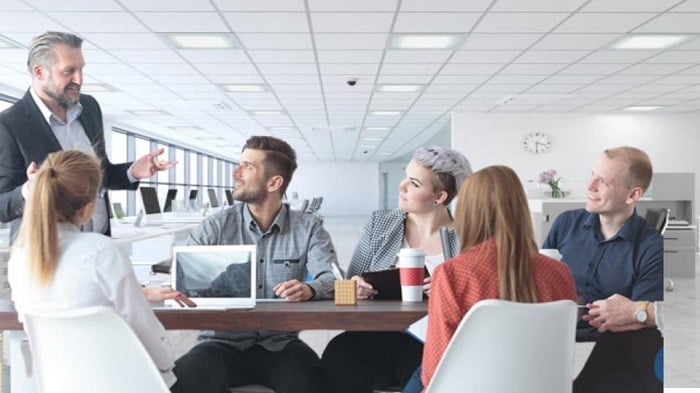 6 Best LMS Training Platforms For Organizational Productivity
Best LMS training platforms for organizational productivity is not an option but a decision organizations have to make to foster optimal productivity.
An LMS training platform's objective is to offer learners training and development so that the learning and development (L&D) departments can support the expansion and success of a business.
Businesses need to make sure that their employees are informed about the most recent corporate policies, product updates, and industry news in order to maintain a well-oiled and cohesive workplace.
This kind of staff training used to be conducted in person, with managers presiding over group meetings or one-on-one consultations.
However, as a result of the development of technology, businesses today have more options when it comes to staff training. Utilizing the LMS training platform, the best learning management system, is one such alternative.
What is Learning Management System?
Learning Management System is a piece of software that aids in the management, tracking, and delivery of e-learning materials and courses for enterprises.
It can be used to develop and deliver online training programs and to monitor a worker's development and performance.
On the market, there are numerous alternative LMS training platforms, each with a unique set of features and advantages.
The Best LMS Training Platforms
Given the variety of platforms on the market, it is crucial to select the one that best suits your demands. After choosing an LMS training platform, you can begin developing and delivering effective online training programs for your staff.
In this article you are going to learn the 6 best LMS Platforms that[can make your organization more productive.
1. Gopius
Gopius is user-friendly, learner-first eLearning platform that serves the learning and training needs of people from all types of organizations.
Gopius helps create amazing learning for all. Gopius online learning management software makes the onerous administrative tasks smoother than ever for businesses.
Our LMS is perfect for easing administrative tasks, teaching, learning and onboarding of employees and customers. What you will benefit from a standard LMS software – key features:
White labeling: You can fully customize our LMS to have the look and feel of your brand.
Course Management: With our LMS, your school, business or instructors can create multimodal (video, image, text, doc, etc.) digital content for learning.
Assessment: You can assess and get valuable feedback from learners using quiz/test, assignment, poll and survey features.
Report tracking: Business' goals can be tracked. Learners' progress can also be tracked as well.
Conferencing: Our e-learning platform supports live classes via video and audio conferencing
Cloud Based: Do not worry about bandwidth or space, we will take care of that.
2. LMSNinja
LMSNinja is a strong and complete LMS training platform that aids businesses in more efficient staff training.
The platform provides a vast array of features and tools that make it simple to develop and deliver training materials, monitor employee development, and evaluate the effects of training initiatives.
For companies of all sizes wishing to enhance their staff training programs, LMSNinja is the perfect option.
The LMS training platform is user-friendly and offers a variety of features that can be tailored to match the unique requirements of any enterprise.
Businesses may design a more effective training program with LMSNinja that will boost worker performance and productivity.
A powerful learning management system (LMS) called LMSNinja helps businesses and organizations manage their employee training and courses more effectively.
There are many features offered by this LMS training platform, including reporting, assessment, and course management.
3. TalentLMS
The strengths of TalentLMS are the incredibly competent assessment and survey systems. Student engagement and knowledge retention depend on assessments.
A strong system that offers many question types, exam formats, and in-depth reporting is necessary to ensure that the "learnings" actually stick.
You are able to design and manage your own certifications (including validity periods). Through this LMS training platform, you can easily build a certification that an employee may work on, pass, and demonstrate for areas that need further attention.
Another method for enhancing learning, boosting retention, and encouraging engagement is gamification. Using the TalentLMS gamification function, you may enhance your courses with badges, points, Levels, rewards, and leaderboards.
4. Absorb LMS
Thanks to Absorb LMS, businesses may provide training to staff employees both within and at partner enterprises.
Absorb LMS and Zoom can be quickly combined. After establishing a course on this LMS training platform, all you have to do is select Zoom as the venue.
Your virtual meeting room will be created through a collaboration between Zoom and Absorb LMS.
If your business need social learning, compliance training, staff development, sales training, mobile learning, partner or client training, Absorb LMS is an excellent choice.
You may create your own courses, share them, and get paid for them all through the Absorb platform thanks to the framework that the Absorb LMS provides.
The Absorb LMS is integrated with more than 70 payment gateways, many of which accept payments in different currencies.
5. Docebo
In the business sphere, Docebo is a well-liked LMS training platform. It combines badges, prizes, and rankings as engagement tools to infuse the learning process with a bit gamification flair.
Some of Docebo's most well-liked features include the capacity to build distinctive dashboards on an instructor-by-instructor basis, the use of widgets to help managers see the progress and skill gaps of their teams, as well as a tool that enables learners to share their experiences and learnings with other students.
6. LMS SAP Litmos
In corporate training, it is necessary for both small groups and huge corporations to receive the appropriate training. Customers of your company's goods can also require training, which is occasionally not something that can be done just online.
What makes Litmos unique is its capacity for scaling. Here, we're talking about scaling to millions of students.
It enables anytime, everywhere access to individualized content, is simple to deploy, can be tailored for occupations and abilities, and integrates with all of SAP's renowned business management technology.
If you're looking for the best LMS training platforms, SAP Litmos LMS is one of the best options.
The Purpose of Using LMS Training Platform
Your company may choose to use the LMS training platform for staff development for a number of reasons. Consider the following
A. Streamlined Instruction
Learning is facilitated by the LMS training platform, which also substantially simplifies employee training. It consolidates all of the instructional resources in one location.
Critical resources are easily accessible to employees from a single location. There's no need to switch between a network of websites to access different applications, emails, or corporate resources.
B. Worker Involvement
The modern learner's increased distractions are hurting businesses. Employees have access to a mixed learning environment through the LMS training platform for thorough, engaging learning.
Educational material is provided in a variety of formats, including written, audio, and video information, to support learning objectives.
C. Reporting and Evaluating
With the use of LMS training, managers and employers may effortlessly keep track of their staff members' learning progress.
They can conduct a check-in to see how everyone is doing and whether the required tasks are being completed.
Employers and supervisors can use LMS systems to check for gaps in employee understanding and determine whether any ideas need to be reviewed for a deeper understanding.
D. Cost Cutting
Every business searches for methods to reduce expenses, right? Investing in an LMS training platform might result in significant cost savings.
Businesses can save the expense of paying a trainer to go and train their personnel on new subjects by using the online learning management system.
During the procedure, remove the overhead (i.e., training costs, boarding, lodging, etc.). Set up the LMS training and then give the staff permission to start working.
E. Efficiency
Using the LMS training platform, employee training and development may be carried out more successfully. It is more efficient to let people learn at their own pace and analyze as needed.
There are currently appropriate and inappropriate times and locations for instructor-led instruction. The benefit of a learning management system is that it provides a ton of automatic guidance and assistance.
Final Thought
Making a learning strategy is crucial after selecting an LMS training platform. By doing so, you can stay focused on your objectives and make sure you are utilizing the platform to its full potential.
You can make the most of the platform and contribute to raising employee productivity in your firm by selecting the appropriate platform and developing a learning strategy.