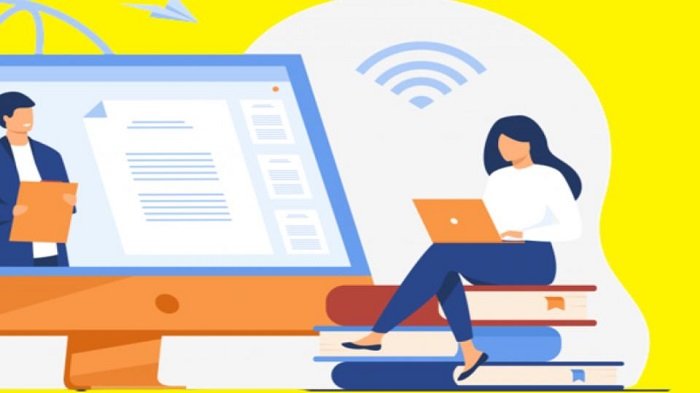 Top Benefits of Enterprise Learning Management System to Your Businesses
Employee learning and development can be managed more effectively and efficiently with the use of an enterprise learning management system. Processes for employee training and development can be streamlined and automated using an LMS, which also makes it simpler to monitor employee progress.
Learning Management System
Organizations are under pressure to perform better over time and with less resources. Businesses may manage and deliver training more effectively and efficiently with the use of enterprise learning management systems (ELM).
By automating and standardizing the delivery of training materials and processes, enterprise learning management systems may help firms save time and money.
Businesses can easily track and measure employee performance and compliance with training obligations by utilizing an enterprise learning management system.
Additionally, by facilitating employees' access to and utilization of learning opportunities, enterprise learning management systems can assist firms in fostering a culture of learning.
Such a learning platform can also provide workers specialized, individualized learning opportunities that are catered to their unique requirements and preferences.
Enterprise learning management systems, in general, have many advantages for enterprises. Businesses may increase employee performance, save time and money, and foster a learning culture by utilizing such online learning tools.
There are many excellent programs available, so it's important to consider your company's goals and objectives as well as how seriously you take employee growth and development. You might require an enterprise lms if you take them seriously, after all.
An enterprise learning management system will help every business and employee.
These systems might include the following.
Department of Human Resources
Through a corporate learning management system, both managers and employees can complete and retain work-related training.
In keeping with the requirement for business expansion, courses frequently aim to expand employee skill sets.
Networks for Professionals
Healthcare, manufacturing, and financial services are among the sectors that have adopted corporate learning management systems together with information technology. primarily satisfy a member's continuous training standards, license obligations, or compliance training requirements.
Enterprise learning management systems for finance, marketing, sales, blogging, and other practical skills will be valuable to working professionals. This comprises business owners and executives looking for intensive training.
Self-Learners and Enthusiasts
An enterprise learning management system can be used by individuals who wish to share their expertise by providing courses on a wide range of general subjects, including support, marketing, and a host of other subjects.
Ideal outcomes from using the top enterprise learning management systems include:
1. Letting You Use Your Personal Branding
Using your logo, colors, and fonts, as well as other customization choices, you can brand your workplace learning management system to keep everything consistent.
2. Rapid Platform Adaption
Make sure the enterprise learning management system you select integrates quickly and without a hitch with other programs and platforms, including CRM, payroll, HRMS, and others.
3. Streamline the Instructional Process
Each employee grows at a unique rate. This makes it possible for you to customize the training experience for each employee and recognize when more help is needed thanks to a solid enterprise learning management system.
4. Enterprise Learning Management System Advantages
Business leaders today face a variety of obstacles when it comes to encouraging and successfully engaging their workers' diverse learning preferences.
Businesses should provide solutions that work for everyone as every employee may have a different learning path.
Enterprise learning management systems are especially useful in promoting continual training and development, even if your staff members are distributed throughout multiple geo-regions or working remotely from their homes due to PANDEMIC. Numerous advantages of an enterprise learning management system include:
5. Experience that is Tailored
It used to be that sitting through several hours of lectures was a requirement for attending organizational training sessions.
Thanks to enterprise learning management systems, which provide interesting assessments, interactive lectures, video conferencing, and channels for sharing the courses, current learning and training are also more personalised.
When the LMS is available online, social learning can be incorporated into your e-learning strategy.
You can develop online communities where your manager can engage with and assist your employees, or you can develop peer-to-peer eLearning.
Advantages of Enterprise Learning Management System
A. Cost and Time Savings
You can stop worrying about things like hiring a trainer, publishing course materials, setting up a place for training activities, etc. if you use an enterprise learning management system.
Nearly all employee training may be conducted online, saving your company a lot of money on training and development expenses.
Your staff can access the online course at any time using the enterprise learning management system, so they don't only have to show up for a three-hour workshop or seminar.
The flexibility provided enables your staff to enroll in these courses on their own schedules without interfering with their crucial daily obligations.
Another reason why an enterprise learning management system is essential for business success is that it enhances regulatory readiness. Accurate and consistent instruction are required for adhering to laws and regulations.
A learning management system ensures that the same message is delivered across all media for corporate training. Personnel who choose to develop their own resources or make use of those developed by others fall under this category.
Additionally, automatic monitoring tools allow managers to make sure that no questions remain unanswered and that workers have properly completed their training.
Credential management is an additional benefit of an LMS. The best corporate management retransmits training sessions automatically and alerts personnel when credentials are about to expire.
The most crucial thing to remember is to always obey the rules, yet doing so only demands abiding by the laws and regulations.
B. Monitoring Progress
Thanks to the monitoring systems that come with enterprise learning management systems, managers and leads may assess what programs have been undertaken and by whom, follow their employee training, and determine areas where employees need support to progress.
For businesses to monitor and assess the effects of their learning program on the organization, real-time data is essential.
By alerting employers to areas where their training programs could be improved, the metrics provided by the training management enable continual improvement.
An employee training management system allows training managers to examine data and visuals about specific employees.
Having such a thorough insight of precisely where they need to improve will aid them in choosing whether to encourage or give those learners more attention.
C. Centralized Method
You may manage training conveniently with the help of a corporate learning management system. You may manage any number of employees simultaneously and be sure of continuity in delivery, as well as in your ability to analyze results, because everyone is given the same content.
Even if various coaches are teaching in different locations using different methods, this is not the case. By utilizing an enterprise learning management system, you may provide a centralized and reliable method of delivering training materials.
Having a central location for learning management systems improves record keeping as well. The integrated record management system tracks every hour of instruction in the classroom.
D. Accessibility
When employing an enterprise learning management system that is hosted in the cloud, the company's eLearning course contents are not distributed over various offline hard drive locations or PCs.
Staff members can access the course materials whenever and wherever they want because they are safely saved in the cloud.
Records and data loss still have a very low probability even though everything is stored on a safe central server. Simply said, an online learning management system, which also saves your employees' time, is ideally suited for a business with a distributed or worldwide workforce.
E. Scalability
As businesses grow, they must implement online training to meet the increasing number of workers from around the globe.
Despite technological obstacles like sluggish response times, system failures, or any other, a corporate learning management system may accommodate a large number of users regardless of the technical constraints.
By integrating the learning management system with outside applications like SMS messaging and PM websites, users can expedite their training-related experiences without being taken away from their work.
Utilizing learning management systems also helps organizations produce and deliver top-notch content to learners with roughly the same flexibility and regular pace.
In addition, time-consuming chores like scheduling on-boarding meetings for potential employees and many more are completed automatically.
The key attributes of LMSNinja are as follows:
Content management: LMSNinja makes it simple to develop and organize your educational materials. It provides a variety of content management functions, such as managing, uploading, and publishing your content.
Program management: LMSNinja provides a variety of program administration tools, such as custom course building, managing your learning programs, assigning courses to students, and monitoring student progress.
Assessment Management: LMSNinja's assessment management tools let you make and manage tests, assign them to students, and monitor their results.
Reporting and Analytics: LMSNinja has a number of reporting and analytics tools, including as the ability to produce reports on learner progress, course completion, and test results.
User Management: LMSNinja's user management tools let you set up and manage user accounts, assign permissions and responsibilities, and manage user data.
Final Thought
A sophisticated and user-friendly enterprise learning management system, LMSNinja by 500apps offers a variety of features and tools to help you manage your learning content and programs.
Additionally, it grants you access to more than 50 programs that you may use to satisfy all of your business needs.