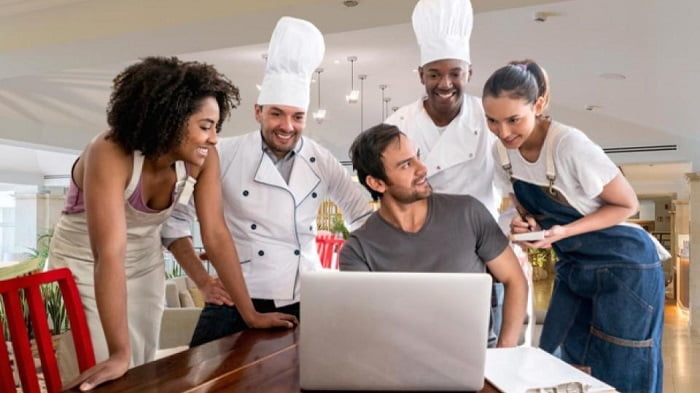 6 Ways An Hospitality Company Benefits From LMS
If you work in the hotel sector, using eLearning through an LMS, it will greatly improve your operations, especially now.
Traditionally, one of the busiest times of year for hospitality is during the holidays. If you own a restaurant, you could notice an increase in reservations for Christmas parties for businesses and family gatherings.
Maybe you run a hotel that provides accommodations and winter getaways for people going to see family. In either case, you'll probably need to hire more employees to keep up with demand.
The cost of hiring new employees to achieve customer service standards can be high, both in terms of time and money.
This is where Learning Management Systems can help. The holiday season depends on new hires being quickly brought up to speed, but the traditional method of teaching them on the job isn't always effective.
Relying on seasoned workers to get new hires up and running takes them away from their regular tasks, and classroom training is an expensive endeavor that costs money each time a course is offered.
Let us look at 6 ways an hospitality company benefits from LMS
1. Quick Digital Onboarding For New Employees
However, if you've implemented an LMS, you can leverage online training to provide new hires with a variety of onboarding materials – and you can do this even before they step foot on the shop floor.
Your eLearning software can be used to distribute critical information such as contracts, company policies, and processes, which can hasten the first induction process.
Multiple approaches to introduce new team members to your organization's culture and mission are also available through your learning management system.
This implies that you may welcome them into your staff and instill a desire to contribute as soon as they are hired.
2. Easily Managing Multiple Hires
While reducing time when distributing important information is one advantage of onboarding via LMS, it also offers administrators help if you're hiring a lot of new employees to keep up with customer demand.
It can be challenging to guide several new hires through their first week, but eLearning allows HR or Learning & Development Managers to automate their own activities and monitor employee development.
This kind of overview, which an LMS offers, helps to avoid mistakes and keeps new hires from feeling lost when they start their careers with you.
Administrators can, for instance, view the information that each new employee has received and their level of engagement with it from their LMS dashboard.
3. Start Off With Online Training Using Your LMS
Excellent customer service starts with excellent staff training, and thanks to online learning, you can start acquainting your new team members with these abilities as soon as they agree to work for you.
Utilize your LMS to provide thorough eLearning prior to the big first day because settling into a new job requires having the confidence to contribute.
This can include things like videos that show how to perform simple tasks or documents that explain the level of service you want from new hires.
While helping people start strong on their first shift, this also has the advantage of letting their managers know how they did on any introductory mini-tests or quizzes and whether extra help is necessary before seeing clients in person.
4. Online Delivery of Hospitality Compliance
Of course, the hospitality industry must adhere to a number of public health-related rules and laws. Whether you own a cafe or a bed & breakfast, there are a number of regulations that must be followed daily.
It is crucial to inform your workforce of the regulations for health and safety, consumer rights, waste management, and even GDPR. We advise relying on your LMS to present this in a complete and understandable way.
Any employee can receive training on topics important to your business through cloud-based eLearning, and your HR team can keep track of their development.
Online learning is the best delivery method because it is adaptable, and because compliance regulations change regularly. If a procedure changes, you can update the course and spread it out to your entire firm at once.
Additionally, your LMS gives your personnel the option of automated certification. For instance, after completing a course satisfactorily, staff can be given certifications for food hygiene.
These certifications will enable them to complete their task safely and confidently.
You can utilize your learning management system to completely prevent this from happening, but penalties for irregular practice might be severe or even put your entire business in danger.
5. Affordable Learning and Development
By purchasing an LMS, your hospitality company may entirely digitize the training process, creating a more dynamic, all-encompassing, and affordable L&D department.
The main disadvantage of the conventional strategy, which involves paying a speaker to give a lecture and printing classroom materials, is that you have to pay for a venue and the speaker's fee each time you use it.
With eLearning, you can give that training experience to hundreds of employees whenever you need to cover a specific topic.
It is developed once and saved within your LMS. Additionally, those students can do the online instruction at their convenience.
In addition to enabling you to develop engaging, gamified eLearning for your staff, using an LMS also allows you to free up a sizeable portion of your training money for use in other areas of your company.
When necessary information can be stored in a cloud-based LMS, who needs the expenditure of stacks of paper?
6. Follow Learner Development Through Your LMS
One benefit of using an LMS for your hospitality business is ensuring that new hires have the knowledge they need to become competent members of your team. Another is the capability to follow up with and help those people as they advance.
Nowadays, the majority of LMSs have powerful dashboards with excellent reporting and analytics features for admins.
Rolling out the required courses and modules is one thing, but if you want to keep everyone on a worthwhile learning journey, learner engagement and success are crucial factors to consider.
You can use eLearning to dig further into how your employees are performing as a group or individually, and then provide additional help or courses where you believe they are needed.
With automatically supplied reports, managers may stay informed about who should be promoted and who might be having trouble and needs a little extra help to succeed.
Coclusion
Excellent reporting tools can also assist you in creating excellent courses; for example, if many students are having trouble passing a certain module, it may be that the training materials themselves need to be changed.
In the end, the advantage of online training is visibility because you can quickly and easily observe which courses are effective and how everyone is performing.