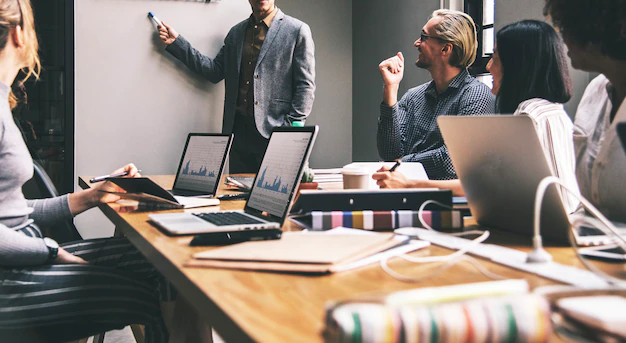 How E-Learning Can Promote a Learning Culture Within Your Organization
Organizations must be able to keep up with the rate of change while also predicting and preparing for future demands and difficulties as the business ecosystem of today, as well as the globe at large, continues to experience rapid technological and societal developments. For this reason, organizations and firms that want to be competitive in the current time of industry need a culture of learning.
You can also look up, How To Use Animation in the Creation of A Pleasant eLearning Environment: 6 Tips
What is the Culture of E-Learning
Employees who work in an environment where learning is valued are encouraged to develop new skills and knowledge, collaborate with coworkers, and share what they learn with others.
A culture of learning is described as "a culture that encourages an open mentality, an individual quest for knowledge, and shared learning geared toward the objectives and goals of the firm" by the Corporate Executive Board (CEB).
Although formal programs for training, learning, and development are offered, there is a significant advantage to doing so. A culture of learning can encompass and include both official and informal chances for learning. When compared to businesses without formal training, those who offer complete training programs have an income per employee that is 218% greater.
Additionally, these businesses also have a 24% larger profit margin. Organizations that prioritize and put formal Learning and Development (L&D) programs in place as a component of a learning culture will make sure they benefit from these organized approaches, even with the average worker spending less than 25 minutes per week on formal learning.
Cultivating a culture of learning has rarely been more crucial than it is right now, given the enormous disruption to "business as usual" produced by the COVID-19 outbreak. According to 68% of these L&D professionals, the sense of urgency around the implementation of learning initiatives has sharply grown. 66% of learning and development professionals claim that their function has become a far more strategic component of their organizations.
Additional Advantages Of A Learning Culture
According to research, fostering a learning culture at a business has a number of advantages. Employees are 83% more likely to be content with their jobs when they work for organizations that support learning resources. Increased involvement among employees results in higher levels of productivity. Companies that have high levels of engagement actually report 22% higher output.
E-Learning For A Learning Culture
Business executives and leaders can benefit from eLearning by creating a culture of learning that fosters the development of both the individual and the organization. Data demonstrates that eLearning is a successful and efficient way to provide learning and development opportunities to staff, with a number of advantages:
Employee time spent on eLearning is often 40–60% lower than that spent in a traditional classroom.
72% of businesses claim that by keeping up with technological advancement, eLearning helps them maintain a competitive edge.
Businesses claim that eLearning has increased revenue by 42%.
A $30 improvement in productivity benefits from every dollar invested in online education.
Employees can learn at their own pace with eLearning which integrates professionally made training videos because they can access these videos at any time, from any location. To make sure that employees are learning new material and actually acquiring the knowledge and skills they need to succeed, additional evaluations can be utilized in conjunction with these online training videos, lessons, and courses.
As an alternative, eLearning that incorporates virtual, live instructor-led training offers staff members the opportunity for face-to-face interaction and real-time collaboration while they learn. This type of eLearning also gives students access to the depth of knowledge held by knowledgeable Subject Matter Experts and gives them the chance to ask specific questions in order to learn more efficiently.
This method of eLearning is also practical and economical, providing flexibility to learners and raising engagement through live online training sessions. eLearning is a surefire way to promote a culture of learning at your organization while also effectively and efficiently engaging and teaching employees the knowledge and skills they want to learn, regardless of whether you prefer to offer professionally designed training videos or Virtual Instructor-Led Training for Learning and Development.