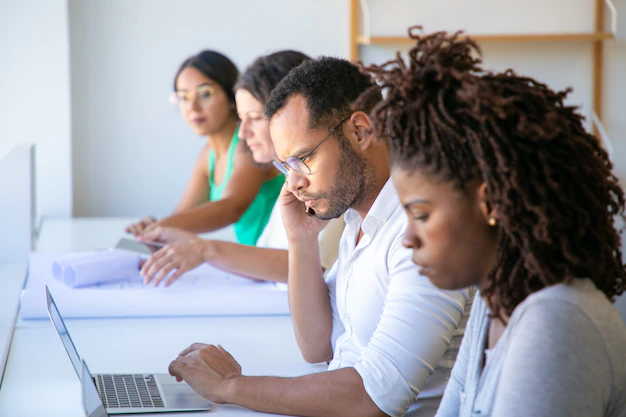 Instructor-Led Training Program: Can LMS Be of Help?
Many companies around the world use the traditional training style known as an instructor-led training program. Learn how to empower them by using an LMS.
Read: Adequate Ways To Control ILT Training With TalentLMS
Instructor-Led Training Program: Can LMS Make It Better?
ILT has various disadvantages, including having a limited audience, greater expenses, and the potential for difficulty in tracking KPIs like learner performance and ROI, despite the fact that it is a very useful kind of training due to higher knowledge retention.
ILT is one of the learning methods that must alter to keep up with the pace of technological innovation and the dynamic corporate environment. It is advantageous for enterprises that offer ILT to employ a technological solution to support it, like a Learning Management System (LMS), since it gives you better delivery flexibility, the capacity to generate reporting, and is a practical approach to provide training to numerous groups of learners.
Instructor-Led Training Program: What is it?
Instructor-Led Training is a sort of training in which a teacher or facilitator imparts knowledge to students in the present. ILT can be delivered to learning groups in a variety of ways, such as in the form of a lecture, classroom setting, seminar, or workshop.
Additionally, it can be carried out digitally using video conferencing facilities or as a live presentation for students to observe.
Pros of ILT
For a number of reasons, instructor-led training is a potent method of providing instruction.
Learners may ask questions, receive prompt responses, and gain knowledge from others' inquiries.
According to the needs of the audience, instructors can modify their teaching methods.
Students can network with one another to expand their professional networks.
If students have concerns or are having trouble, instructors can return to a particular area of the course.
Silos are broken down and cross-departmental collaboration is increased when several departments come together.
ILT Delivery Using An LMS
ILT is a very efficient training approach, but because of the logistics needed to support it, it is frequently expensive. Renting premises, employing instructors, paying for travel and meals, as well as buying and using equipment, all add up quickly.
Additionally, companies are under additional pressure due to changes in the business environment, including increasingly dispersed workforces, fewer training and travel budgets, and a stronger emphasis on proving training ROI.
Should LMS Be Used for ILT and Why?
The aforementioned issues can be resolved and ILT can be made extremely effective by using a technological solution like an LMS:
Create Flexibility in Delivery
The advantages of traditional ILT distribution are preserved while making it accessible to learners worldwide via the internet.
The Increase In Attendance Rate
By making it simpler for students to remember ILT sessions with automatic reminder messages, calendar views, and course auto-enrollment, you may improve course attendance.
Expansion of Learning Engagement
By making training resources like course notes, slides, videos, and quizzes available, you may continue to engage learners in learning after the course has ended. After their ILT sessions, employees might be assigned to courses or learning paths to continue their education on a specific topic.
How Can LMS Help ILT
Organizations may plan, schedule, and track training using an LMS web platform. Here are the main ways that an LMS can support you in conducting your ILT sessions:
Analytics
When you move your ILT sessions to an LMS, you'll be able to quickly provide reports on learner performance and other KPIs. To ensure that everyone is on the same page, you can schedule these reports to be emailed right to your mailbox or to other team members.
Assessment
You may build and automate quizzes with the help of an LMS so you can assess your student's comprehension of a subject, offer customized comments, and solicit student feedback. These findings can be reported on to monitor student progress and pinpoint areas for improvement.
Auto-enrollment
Using auto-enrollment functions, an LMS can help guarantee that your students are placed in pertinent ILT courses. Employers can be registered for upcoming ILT courses automatically based on user attributes like title, department, location, and course expiration date.
Automated reminder notifications
It is simple to set up email reminders for upcoming ILT sessions and training completion dates to make sure learners are informed of their pending coursework.
Learning paths
In order to deliver ILT sessions that learners from all around the world can attend, create online courses or learning paths in your LMS. The use of pre-recorded training can also make courses accessible at any time.
Conclusion
ILT has several drawbacks, but overall it is a very successful training technique. It is difficult for ILT to offer effective training given the changes in technology and the corporate environment. Organizations should use an LMS to support ILT because it will automate the management, tracking, and delivery of their live and virtual classroom courses.
Your ILT sessions will be broadly accessible, you will spend less money on ineffective training, and you will gain useful information to improve the learning environment.