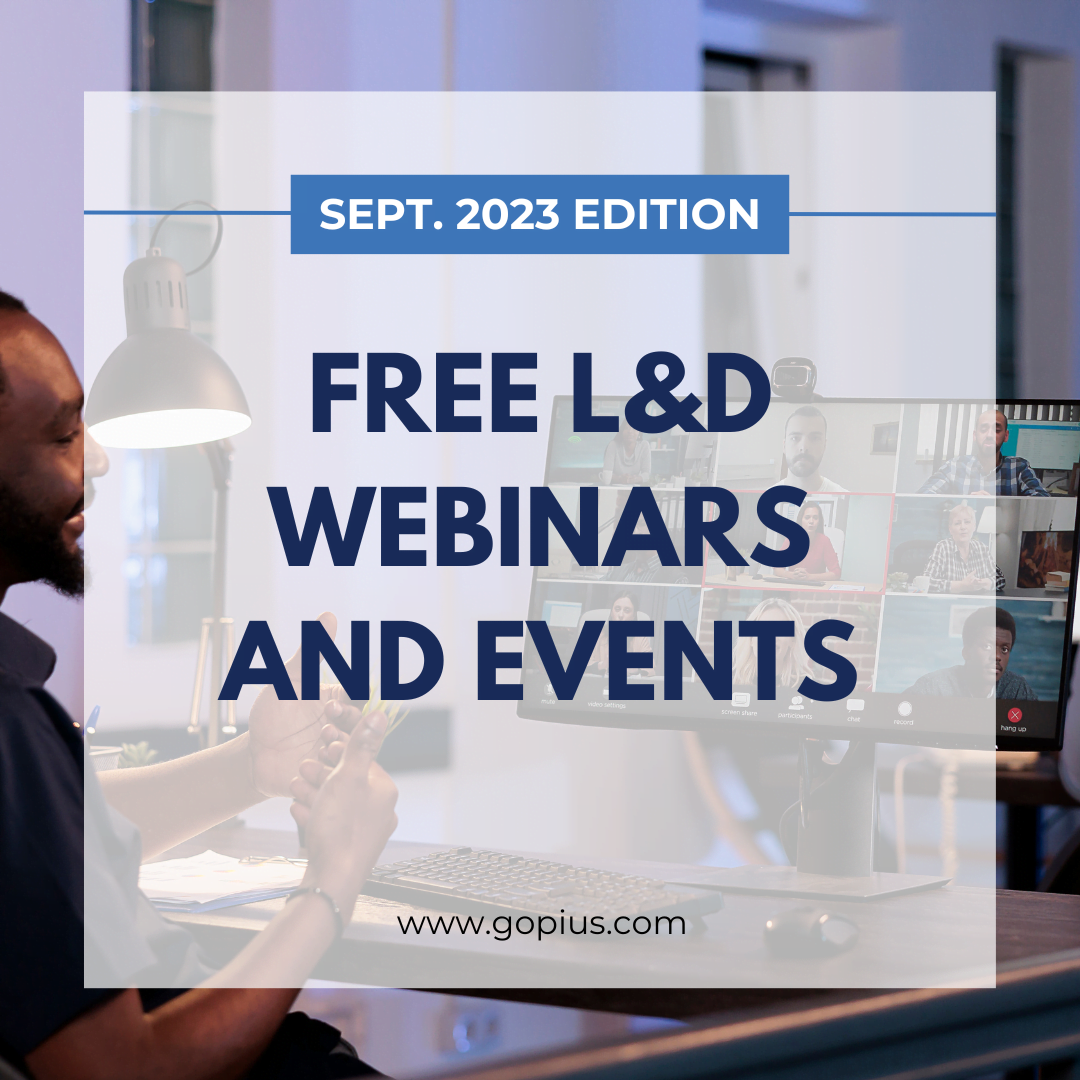 Free Learning and Development Webinars for September 2023
In the dynamic world of Learning and Development (L&D), staying ahead of the curve is not just a goal; it's a necessity. The ever-evolving landscape of workplace training and professional development demands continuous learning, fresh insights, and innovative strategies. Fortunately, there's a treasure trove of knowledge waiting to be unlocked, and it's all just a click away. Welcome to a realm where knowledge knows no bounds, and your professional growth is just a webinar away! In this blog post, I will be sharing with you some FREE Learning and Development Webinars for September 2023.
Top FREE Learning and Development Webinars for September 2023
In today's fast-paced corporate environment, L&D practitioners are the unsung heroes, responsible for nurturing talent, fostering innovation, and driving organizational success. Yet, to excel in this crucial role, they must embrace lifelong learning themselves. This is where free learning and development webinars come into play, offering a lifeline of expert guidance, industry trends, and cutting-edge practices.
In this blog post, we invite you to embark on a journey through the world of free webinars tailored specifically for L&D professionals. So, if you're ready to elevate your L&D game, sharpen your skills, and connect with thought leaders in the field, join us as we dive headfirst into some of the free learning and development webinars for September 2023. Get ready to unlock a world of knowledge, enhance your expertise, and become an even more effective L&D practitioner.
Read also: Top Ways of Enhancing Employee Skills through a Well-Structured L&D Program
Wednesday, September 6, 2023, 10 a.m.–11 a.m. PT
The window of opportunity for sellers to deliver a high-quality, relevant buying experience has become razor thin. Sellers need to be able to deliver the right message, the right content and have the right knowledge to convert prospects to customers. With buyer's attention spans shrinking, this has become even more challenging. Join Jake Miller, Senior Product Marketing Manager at Allego, and Matt Pittman, Principal Analyst from Brandon Hall Group, for an insightful livestream, as they explore the hallmarks for creating today's modern buying experience.
Skills for Success: The Modernized Skills Framework (Free for I4PL members)
Wednesday, September 6, 2023, 10:30 a.m.–11:30 a.m. PT
In May 2021, the Government of Canada launched a modernized skills framework that provided consistent language and a common understanding of skills constructs. The model was made to be inclusive and responsive. In this webinar, Janine Bucklaschuk, teacher, facilitator and instructional designer, will talk about the purpose of the model, the difference between participant understanding of the skills and the model's skills components, and the ways that practitioners can apply the framework. In a period of rapid change in the Canadian labour market, training and development practitioners would benefit from understanding a framework that is directly tied to the trends that are observed.
Wednesday, September 6, 2023, 11 a.m.–12 p.m. PT:
To protect your budget and grow your L&D team into a driving force of innovation at your company, you must show the impact your programs are fueling. This session, led by Abu Batasi, Director of Sales & Partnership at 3AG Systems, aims to provide you with valuable insights, real-world examples, and proven methodologies to develop and execute an effective L&D strategy that delivers measurable results that will resonate with your executive leadership. After this event, you'll be able to:
Identify strategic L&D goals.
Understand the link between L&D and ROI.
Design a learner-centric approach.
Evaluate and measure L&D impact.
Enhance L&D program effectiveness.
Wednesday, September 6, 2023, 12 p.m.–1 p.m. PT
Canva is a versatile graphic design tool that can be integrated with Articulate Rise courses to enhance the visual appeal and engagement of your elearning content. From brainstorming your design and content with a subject matter expert (SME) to creating custom image assets, infographics, and process diagrams to scenario illustrations and explainer videos, you can utilize Canva to create the perfect asset for your course. In this session, Danielle Watkins, Owner, Instructional Designer and Trainer at Zenith Performance Solutions, will show you how to:
Utilize whiteboards to brainstorm your elearning content and project.
Create unique custom image assets, infographics, process diagrams and interactive images.
Create scenario illustrations.
Create explainer videos.
Bulk-create certificates and badges.
Create promotional materials for your course.
Wednesday, September 6, 2023, 3 p.m.–4 p.m. PT
Leigh Ann Morgan is a corporate instructional designer with a master's degree in instructional design and technology from Indiana University of Pennsylvania. She designs with intention, by thoroughly assessing clients' needs and constructing impactful elearning that will develop skills and inspire better performance and growth. Leigh Ann believes instructional design is both a science and a form of art. With a sound understanding of various design methods, theories and technical skill, she takes the learner on a journey that is focused, fulfilling and fun. Join this webinar to learn what Leigh Ann has been up to.
Thursday, September 7, 2023, 9 a.m.–10 a.m. PT:
BrightCarbon's Stefan Brown, Design Consultant, and Richard Goring, Director, will look at core accessibility requirements and how you can incorporate them into your presentations and other PowerPoint-based content. You'll see what the various requirements are and how applying them not only helps those with accessibility needs, but everyone else in your audience. The use of colour, contrast, readability and redundancy are simple but effective techniques that will be demonstrated live with tools to help you achieve success more easily.
September 7, 11:00 AM
Organizations must ensure their sales teams have the skills and capabilities they need to effectively communicate with customers, meet business goals and close deals, regardless of where they are working. To do this, learning leaders must deliver engaging and impactful sales training programs that enable sales reps to be successful in a competitive business environment. In this Training Industry Leader Talk, you will learn how to effectively train your sales team to thrive in this new age of selling.
Thursday, September 7, 2023, 12 p.m.–1 p.m. PT
Windows PowerToys is a free set of utilities that can make your job designing and developing learning applications easier and more accurate. In this session, Joe Ganci, President of eLearningJoe, will share how you can apply each of the PowerToys utilities in every phase of learning creation, most especially in the development phase.
Tuesday, September 12, 2023, 9 a.m.–10 a.m. PT
Mike Parkinson, Owner of Billion Dollar Graphics, will show you how to quickly turn ideas, words and data into professional graphics using Build-a-Graphic. Watch Mike make compelling, expert-level graphics in minutes with the latest AI tools and Build-a-Graphic. If you need graphics, don't miss this mind-blowing session. All participants will get some of Mike's most popular graphics.
Tuesday, September 12, 2023, 10 a.m.–11 a.m. PT
Digital role plays provides a realistic and immersive solution for soft skills development. In this session, SkillGym's Andrea Laus, CEO, and Matteo Malatesta, Head of Revenues and Business Design, will demonstrate how to leverage artificial intelligence (AI) for upskilling through an innovative and successful approach: online role-play practice and guided self-reflection. You'll explore this innovative and effective solution that leverages cutting-edge AI technology and a powerful methodology based on neuroscience. In this webinar, you'll:
Discover ways to leverage AI to create effective and lasting upskilling strategies and effective L&D programs.
Analyze case studies that apply an AI-driven digital role play to drive results.
Understand the role of tools including ChatGPT can play in the upskilling process and how to best leverage those technologies.
Tuesday, September 12, 2023, 11 a.m.–12 p.m. PT
Nearly half of today's leaders "are overwhelmed by the number and frequency of disruptive shifts occurring" and fail to prioritize accordingly, according to Deloitte. To navigate uncertainty and thrive amid disruption, leaders must become as dynamic as the world in which they lead. Leaders must fine-tune their internal compasses by developing and expanding four key capacities. During this event, Sounding Board's Lori Mazan, Co-founder, President, and Chief Coaching Officer, and Iyad Uakoub, Senior Director of Behavioural Science, will show you how to:
Leverage capacity to meet the increasingly complex and rapid demands of the work world today.
Visualize and understand the Dynamic Leadership Index and each of the four key capacities.
Explore strategies in leadership development to build and expand capacities.
Tuesday, September 12, 2023, 12 p.m.–1 p.m. PT
Much of the discussions about AI and ChatGPT have been the wow effect of new shiny objects. Admittedly AI tools such as ChatGPT enable you to do things 100 times faster with less effort. The missing link or gap in the conversation is "How do I build the 'super learner' with AI/ChatGPT"? What would the learner's learning journey look like? In this session, Ray Jimenez, Ph.D., Architect of TrainingMagNetwork.com and Chief Learning Officer of Vignettes Learning, will focus on strategies, planning, methods, and selection of AI/ChatGPT options and implementation.
Wednesday, September 13, 2023, 9 a.m.–10 a.m. PT
Even terrific content can suck the life out of learners if it's not delivered like your career depends on it. Becky Pike Pluth, President and CEO of The Bob Pike Group, will demonstrate techniques with a modern twist to enhance blended learning and make it something to talk about. If you're new to blended learning, don't be intimidated. If you've been at it for years, take a peek at shortcuts that will make your job easier and more fun.
Wednesday, September 13, 2023, 10 a.m.–11 a.m. PT
The year is 2007, and half of Internet users are still on dial-up. Flash forward to today, and most of us have little left in our lives that doesn't involve technology in some capacity, and when it comes to training, it's no different. Technology and training go hand-in-hand. Training has evolved — and at a much higher speed than that dial-up Internet you used to hum along to. Join the Wisetail team, Kyle Reichelt, Product Manager, and Shad McNeil, Solutions Engineer, for a casual conversation around:
How expectations of technology (especially as they pertain to learning and development) have changed.
How to make technology work for you. (Hello, AI!)
How to lighten your workload while simultaneously ramping up training effectiveness, using technology.
Impact Certainty: Data from 2000 L&D Programs on How to Drive Reliable ROI (Free for I4PL members)
Wednesday, September 13, 2023, 10:30 a.m.–11:30 a.m. PT:
"Training ROI" has long been the holy grail of the professional learning industry. Meanwhile, most organizations have failed to reliably demonstrate the true business impact of their learning programs. Design approaches need to adapt to meet modern expectations. Today, leadership teams are insisting on impact measurement. Join Chris Taylor, founder of Actionable.co, as he shares data from over 2000 programs that leveraged "Impact Design," a method by which people development programs are designed to, and deliver on, the most pressing strategic priorities of your client organizations, delivering measurable impact.
Wednesday, September 13, 2023, 11 a.m.–12 p.m. PT
The corporate learning management system (LMS) gets the job done in terms of knowledge acquisition and assessment, but when creating workforce development programs, consider that most knowledge-economy workers require critical thinking, creativity, communication and collaboration to interface with others and perform great work. This webinar, hosted by Jason Bedford, SVP of Education at Class Technologies, explores how to develop employees' knowledge and skills in collaborative spaces. Gain a deeper understanding of design fundamentals and help lead your organization to reimagine the future of the workforce and the role of L&D in that future.
Thursday, September 14, 2023, 9 a.m.–10 a.m. PT
In 2024, it will be critical to position your employees to grow and gain the skills both they and your organization need. Do you have the strategy, people and tools in place to deliver this experience to your employees? In this session, Ryan Houmand, Principal Learning Specialist at Bridge, will cover why resilient organizations succeed by having the correct set of skills for the market they pursue, and what role technology plays in identifying, mapping and delivering on a skills-based learning strategy. The key takeaways will be:
What is a "skills-based learning strategy" and how to start crafting one?
How to put employees in a position to succeed by having the correct set of skills for the business that employs them.
How AI and automation help identify skills gaps and save (sometimes massive amounts of) time.
The critical role leadership and managers play as culture drivers in skill development.
Thursday, September 14, 2023, 10 a.m.–11 a.m. PT
Modern learning isn't one-size-fits-all courses, and it isn't long-form elearning that gives you zero visibility beyond who has clicked through some content and checked "done." Join Manoj Kulkarni, CEO of Realizeit, to hear actual stories of how companies are modernizing their learning across the top challenges that every company faces. Discover how companies are improving learning in core areas like leadership, compliance, sales enablement, onboarding and upskilling as they create bite-sized adaptive learning journeys. Explore what modern learning can look like by mapping the journey and leveraging adaptive, AI-powered intelligence to create new experiences.
Tuesday, September 19, 2023, 9 a.m.–10 a.m. PT
Targeted learning tailored to today's work environment and aligned to learner preferences and business objectives is a critical path toward success. However, business leaders often see L&D as "transactional." They want learning programs to have a direct impact on future business goals rather than just addressing immediate learning needs. Historically, providing proof of impact has been L&D's greatest weakness. Join Rahul Arora, Chairman and CEO of EI Powered by MPS, Gabriel Schaepman, VP HR at Swiss Re, and Claude Werder, Senior VP and Principal Analyst at Brandon Hall Group, in this webinar.
Tuesday, September 19, 2023, 11 a.m.–12 p.m. PT
Resilient organizations succeed by having the correct set of skills for the market they pursue and deploying them effectively. In 2024, it will be even more critical to position your employees to grow and gain the skills they and your organization need. Now's the time to put the strategy, people and resources in place to deliver this experience. This webinar, with Ryan Houmand, Principal Learning Specialist at Bridge, will focus on five compelling reasons why organizations should make skills a critical part of their strategy for better outcomes.
Tuesday, September 19, 2023, 12 p.m.–1 p.m. PT
When it comes to charts, you know how to make bars, lines and pies, but sometimes, you want something a little different. Microsoft PowerPoint MVP, Nolan Haims, Principal of Nolan Haims Creative, will show you how to extend and hack PowerPoint's charting tools to create unique data visualizations that will stand out and make audiences take notice. You'll learn how to:
Explore lesser-used chart options, such as tree maps, waterfalls and funnels.
Calculate proportional shapes.
Manually construct unit charts.
Manipulate standard charts to create bullet graphs, lollipops, and slope graphs.
Wednesday, September 20, 2023, 10 a.m.–11 a.m PT
Generative AI allows instructional designers to create content faster than ever before, but this isn't the solution to the systemic problems of how you can get employees to engage with your training. In this webinar, Kevin Alster, Learning Strategist at Synthesia, will explore three real-world examples, built with Generative AI and avatars. You'll see how AI videos can be used in a communication plan to build interest with materials, design interactive scenarios for purposeful practice and provide performance support alongside existing tools in your instructional toolkit.
September 20, 2023, 12:00 PM
Data by itself is useless; it's how we contextualize it that gives it the power to drive real change. Knowing what data to collect and how to collate it is critical for any organization looking to harness real information and intelligence from their output. If anything, we might be being bogged down by too much data, which can make it difficult to identify where the most value lies. This episode will look at how BI can detect the most important stories within your data — and how to leverage this for meaningful action.
Thursday, September 21, 2023, 11 a.m.–12 p.m. PT
As businesses scramble to reduce expenses, essential internal resources like L&D become vulnerable, even though cutting them can diminish employee morale, engagement and long-term productivity. This webinar, with Christina Barss, Lead Transformation Expert of Problem Solutions at Allen Interactions, covers strategies to solidify the significance of L&D in the corporate environment. Equip your L&D function with the tools to survive and thrive during economic challenges by effectively communicating its undeniable value to the success and growth of your organization.
September 26, 2023, 10:00 AM
Stifled customer learning prevents commercial success in both self-service digital commerce and traditional seller-buying. This presents a challenge for sales organizations. Chief sales officers (CSOs) need to reimagine how sellers deliver a customer experience that overcomes the common pitfalls of self-service digital commerce and augments the benefits of the digital buying environment to foster customer learning. Join this free sales webinar that explores how to enable customer learning to drive commercial performance.
Wednesday, September 27, 2023, 8 a.m.–9 a.m. PT
Daily microlearning content alone isn't enough to combat the rapid pace of widening skill gaps. People don't become marathon runners by reading about it, and the same is true for any skill. Your employees need deeper opportunities to learn beyond content consumption and to build skills on your schedule, and this upskilling method doesn't have to be time consuming or burdensome for administrators. That's where technology comes into play — learning solutions like academies can help. Join Christine Crouch, Director of the Future of Work at BMO, and Jen Collins, Senior Director of Client Experience at Academies at Degreed, to uncover the ins and outs of this innovative solution.
Wednesday, September 27, 2023, 9 a.m.–10 a.m. PT
Join Britt Andreatta, MA, Ph.D., Author, Speaker, Consultant and the creator of science-based solutions that drive success, as she walks you through insights from building an award-winning leadership training for healthcare professionals. This brain-based program leverages the latest research on healthcare organizations and workplace well-being as defined by the AMA and the U.S. Surgeon General. This session will feature successful examples from several healthcare organizations and will demonstrate several tools and strategies you can use to actively address burnout, change fatigue and moral injury.
Wednesday, September 27, 2023, 12 p.m.–1 p.m. PT
"Flipped learning" starts by asking learners to deal with work issues, analyze them, provide solutions and report the impacts at work. The learning happens along the way and after their activities. Unfortunately, many attempts in flipped learning still end up as memorization programs and don't allow learners to apply ideas. Furthermore, the poor implementation of flipped learning becomes a demotivation. Instead of allowing learners to be more creative and curious, they are forced to memorize concepts. In this webinar, Ray Jimenez, Ph.D., Architect of TrainingMagNetwork.com and Chief Learning Officer of Vignettes Learning, will answer the following:
What are the core differences in learning design of instruction versus flipped learning?
What are the key principles and science behind flipped learning?
What are the five steps to build a successful flipped learning program?
Read also: Virtual Training: How to Increase Engaging Sessions through these 7 Tips
Closing
Thank you for reading through, and possibly registering for the free learning and development webinars for September 2023. Hope we will be able to learn together from the knowledge and experience that will be shared during the online events.
If you find this post relevant, please do well to drop a comment and share with other instructional design and learning and development newbies and professionals.