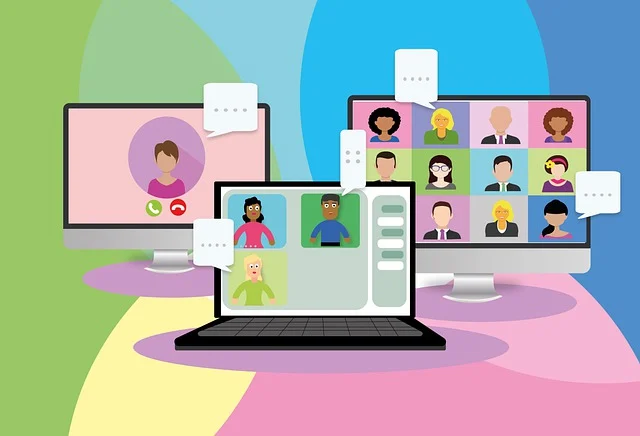 Virtual Training: How to Increase Engaging Sessions through these 7 Tips
Have you heard about virtual training? Have you taken part in any? Have you conducted any? As a coach, your dream is to provide effective learning experiences that leave a lasting impression on your students and help them reach their full potential.
Maybe you already do this with in-person meetings. But have you found a way to keep your virtual training going?
Struggling with technology and figuring out how to make virtual sessions interactive is enough to overwhelm anyone. So we've used our experience organizing and running hundreds of virtual events to bring you a comprehensive guide to these virtual training sessions. What is virtual training?
Virtual training is a method of delivering educational content from a distance. Using the Internet, it helps students learn new skills or perfect old ones, all from the comfort of their desks, couches or kitchen tables.
In the workplace, virtual training is often used to enhance employee skills. Customer success teams also use it to educate new customers as part of their referral process or customer success strategy. Whether you're responsible for training employees or helping customers use your products, you can conduct virtual training using online meeting tools, like Livestorm or Zoom.
Read: 7 Steps To Creating an Effective Virtual Employee Training Program
What Types of Virtual Training are Available?
The top 2 types of virtual training include:
self-paced learning and virtual instructor-led training (VILT).
Self-paced learning encourages students to manage their own schedules and study without too much supervision. This can involve a variety of resources such as open online courses (MOOCs), videos, reading materials, quizzes or pre-recorded webinars. If your students want to get up to speed, consider using an LMS. to store your training materials.
Instructor-led virtual training includes more supervision and in-person learning. Learners are often required to attend pre-scheduled in-person sessions and adhere to the training schedule. If you plan to host online seminars, workshops, or training sessions, you can create a virtual classroom using a video conferencing platform.
Is Virtual Training Effective?
Virtual training can be just as effective as face-to-face training when planned based on the needs and limitations of your employees and your organization. Consider these pros and cons.
Disadvantages of Virtual Training
If you're new to virtual training, you may be wondering how to keep your students focused from afar. Here are some of the main challenges (and solutions) you may face:
Technical difficulties:
Poor internet connection, poor software compatibility, and poor audio/video quality can turn a smooth virtual training session into a caching nightmare. One way to deal with this is to conduct an early technical check with your session moderator and make sure they are ready for the session.
Lack of interaction:
Virtual training can be less interactive than in-person training, making it harder for employees to remember what they learned. But with an online training platform, you can use interactive features like digital whiteboards to encourage participation and engagement.
Distracting environment:
Children, pets, housework, or distractions from working together can easily interrupt a virtual training session. Remind them how to best manage distractions, such as setting devices to "Do Not Disturb" during live sessions.
Lack of accountability:
If your training is asynchronous (i.e.: takes place in the learner's own time, with no face-to-face elements), it is difficult to ensure that learners achieve their learning goals on time. Set clear expectations and conduct regular check-ins to ensure employees are making progress and meeting training goals.
Benefits of Virtual Training
Employee training is vital for any business if you want a high-performing and engaged staff. Likewise, customer success teams need to show new customers the incredible value their products can deliver.
Flexible:
Your employees can attend training sessions directly from their deskswithout having to travel or leave the office. They can easily fit a training session into their schedule along with other meetings and responsibilities.
Pre-recorded training materials:
Platforms like Livestorm make it really easy to record your training sessions, which can then be reused, reviewed, and even used as gated content for lead generation on your website.
Profitability:
In-person training comes with all sorts of costs, such as room rental, travel, accommodations, and refreshments. Meanwhile, virtual training can be free when you use the video conferencing platform your workplace already uses for internal communications.
Ability of extension:
Virtual training software is designed to easily accommodate large numbers of learners, so you can reach more people without needing to rent a larger location or need additional staff.
Diversity:
Outdated presentations are a thing of the past. With tools like Slido and Mural, your study sessions and materials suddenly become much more fun and interactive. Additionally, you can try different teaching formats, including self-paced online courses, shadowing sessions and webinars.
Who Needs Virtual Training?
Every organization needs virtual training. Online remote employee onboarding and training sessions help students juggle busy schedules and access training materials at any time. Here are some organizations that can benefit from virtual training:
Organizations that work together:
For companies with both remote and in-office employees, blended learning provides equal access to training and opportunities for all employees, whether they work remotely or not. Are not.
Flexible work arrangements:
Companies that offer remote work or flexible work hours may find virtual training a convenient option for employees who choose their own schedules.
Organizing remote work:
Companies with fully remote employees, where employees work from different locations and may not have the opportunity to meet in person. Virtual training allows these employees to train together despite physical distance.
Ways to Setup your Virtual Classroom
You can maximize the potential of virtual training by ensuring technical preparation, creating interactive materials, and promoting an inclusive environment in your virtual classroom.
1. Choose format
You can combine synchronous and asynchronous operations or focus on just one type of delivery. For example, if your content is better suited for VILT, you can integrate synchronous video sessions like webinars or virtual classrooms. Otherwise, you can focus on building a knowledge base that includes self-paced online courses and on-demand webinars for students to try on their own time.
2. Choose an online learning platform
Online learning platforms help learners access content and communicate with their instructors and friends. Consider the following when choosing a virtual training platform:
Compatibility with your current technology
User-friendly and easy to navigate
Customization options and flexibility
Analytical and reporting capabilities
Integrate with other tools and platforms
Cost and scalability
An LMS like Blackboard Learn supports self-paced learning through course creation, assessment, tracking, and reporting. But any effective training requires face-to-face interaction.
3. Create a base for course materials
A knowledge base is like a virtual library that allows learners to access and refer to information. This can include presentations, documents, videos, quizzes, and other resources. It can also organize and update your training materials on one central platform. Consider using a platform that allows for easy sharing and collaboration, such as shared drives or an LMS.
4. Set learning goals
The learning goals you set must be specific, achievable, and consistent with the overall goals of the organization.
A good practice is to share goals with learners before starting training and review them at the end of training to evaluate progress. You can also use Q&A or live polls to ask learners about their personal goals during the session and offer targeted support.
5. Evaluate interns in real time
Virtual training is incomplete without evaluation. Quizzes and surveys can be used to test understanding, gauge engagement, and provide immediate feedback. You can also use polls during live sessions to test students' understanding of a topic and tailor your content to their needs.
Tips to Make Virtual Training More Engaging
Now that you've prepared your training materials, delivery format, and online learning platform, it's time to make your virtual course as engaging as a Netflix binge-watching marathon.
1. Establish ground rules
Without a traditional classroom cue, virtual training can go awry. Here are some examples of rules you can set to make sure everything goes smoothly:
Do not multitask during workouts. We know it's tempting but resist the urge to check email or run errands. There is no conversation with the speaker. It's like talking before a movie, it's rude.
Avoid surrounding noise. Do you have pets, kids or super crunchy snacks? Mute yourself. Dress code. Just because you work from home doesn't mean you have to show up in your default outfit.
Keep your camera on. Being visible will help you stay engaged and accountable.
2. Use fun icebreakers
Icebreaker activities promote team development and help set the stage for an engaging, participatory session. Don't be scared to test your ideas because doing so helps to remove obstacles and builds rapport within your team.
Here are a few illustrations of enjoyable icebreaker activities:
Bingo online: Ask participants to record training-related terms on a bingo board as they hear them throughout the training session.
Virtual pauses for coffee: A relaxed approach to end the semester where everyone may gather for a virtual coffee and friendly conversation. "Fast network" virtually. Give participants a chance to briefly describe their responsibilities, hobbies, and identities to determine whether they can connect with people outside of their immediate team.
Exercise in virtual team building: Encourage cooperation by playing online multiplayer games or virtual escape rooms.
Electronic presentation: Permit everyone in attendance to offer something fascinating, and invite others to interject questions and spark a discussion.
3. Create an interactive learning environment
Surveys and questionnaires can be used as pre-training or post-training assessments to assess information retention.
You can even vote on questions so that the most important ones get answered first. These interactive elements can bring a fun and engaging element to your virtual training sessions, making them memorable for your employees.
4. Make everything easily accessible
Employees are more likely to remain engaged when they have easy access to training materials and live sessions. To assist staff members with any technical challenges they may face, provide a central area, such as a shared drive or online platform, with clear instructions and troubleshooting resources.
5. Organize small groups in breakout rooms
Large groups can be broken up into smaller, more manageable groups in breakout rooms so that everyone can talk, think, and ask questions in a more relaxed environment. You can make as many breakout rooms as you'd like, randomly distribute attendees, and put up to 16 presenters in each one. Navigate spaces, give clear directions for student engagement, and make sure moderators are accessible to lead fruitful dialogues.
6. Use a whiteboard to demonstrate
Whiteboards can help illustrate technical or complex information and simulate the experience of an in-person training session. Use the Miro whiteboard in your meeting room to take notes, create mind maps, and add annotations. You can also export a digital whiteboard and use it as a document for employees to refer to after a work session.
Think-Pair-Share (TPS) is an active learning strategy that inspire students to think critically about a given topic or question. This process usually includes three steps:
Think:
Learners are given a question or topic to think about for a short period of time.
Pair:
They then group with a partner or in a breakout room and share their thoughts.
Share:
Students return to the main session and share their ideas with the group.
You can also gain valuable insight into your team's understanding of training materials through engagement analysis.
It's time to deliver virtual training to your leadership team
Virtual training is an effective way to educate employees and customers, reduce employee and customer churn, and improve your remote onboarding process. But it requires careful planning to make your learning environment engaging, interactive, and beneficial for employees.
You should set clear expectations, check in regularly, and use the video conferencing platform's interactive features like polls, breakout rooms, and Q&A sessions to encourage participation.