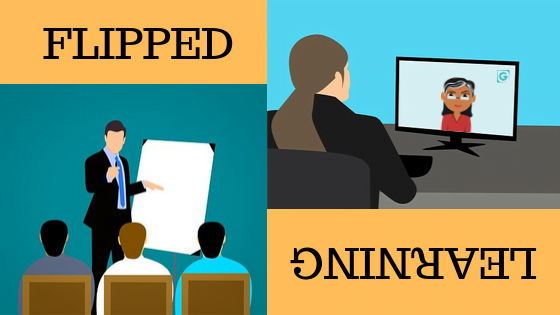 Flipped Classroom Model: Easy Strategies for Its Implementation
This article explores the flipped classroom model; what it means, some basic things you should know about flipping classrooms, and why teachers should consider flipping their classrooms. We will dwell more on the strategies for implementing flipped classroom model in primary, secondary and tertiary institutions of learning. We hope you find this article both interesting and educating.
But first of all, let's start with a definition or the meaning of flipped classroom model.
Meaning of Flipped Classroom Model
Flipped classroom is a "pedagogical approach in which direct instruction moves from the group learning space to the individual learning space, and the resulting group space is transformed into a dynamic, interactive learning environment where the educator guides students as they apply concepts and engage creatively in the subject matter"

Flipped Learning Network (2014)
What we infer from the above definition is that flipping the classroom essentially is a "pedagogy-first" approach to teaching, where in-class time is re-purposed for inquiry, application, and assessment with a view to better meet the individual needs of the learners.
The students then gain control of the learning process through studying course materials outside of the classroom environment, using readings, pre-recorded video lectures, as well as research assignments.
During class periods, instructors facilitate the entire learning process by assisting students to work through course materials both individually and in groups.
However, before you consider adopting the flipped classroom model, there are a few basics you need to know about Flipped Classrooms.
Read also: How to Become a Professional Teacher
Basics Things about the Flipped Classroom Model
Otherwise known as "inverting" a classroom, the approach seeks to preserve the value of lecture (both expertise and custom delivery), while at the same time freeing up valuable in-person class time to facilitate active learning strategies.
The main objective in adopting the flipped classroom model is to cultivate a deeper, richer learning experience for students when the teacher is present to guide them.
Much emphasis is placed on higher-order thinking skills and the application to complex problems.
Why Teachers Should Consider Flipping Their Classrooms
The flipped classroom concept was first brought up by Jonathan Bergmann and Aaron Sams, both of whom were high school chemistry teachers. In their book, Flip your classroom: Reach every student in every class every day (2012), they explored a couple of reasons why teachers should adopt the flipped classroom model:
Flipping helps busy students
Flipping helps struggling students
Flipping allows students to pause and rewind their teacher
Flipping allows teachers to know their students better
Flipping increases student-student interaction
Flipping allows for real differentiation
Flipping speaks the language of today's students
Flipping helps students of all abilities to excel
Flipping makes the class more transparent
Flipping is a great technique for absentee teachers
Flipping educates parents
Flipping can lead to a flipped mastery program
Flipping changes the way we talk to parents
Find out the Kinds of Teachers the can be recruited in this 21st Century
Easy Strategies for Flipped Classroom Model Implementation
So, now that we know what the flipped classroom model really is, and why teachers should consider implementing it in their classrooms. the question to ask now is "How then can one implement flipped classroom model efficiently"?
At this juncture, we wouldn't only be showing you how to implement the inverted classroom approach. Rather, we would be showing you easy strategies for its implementation in the primary, secondary and tertiary institutions.
So, seat tight and learn.
Meanwhile, you may want to read on Top 10 21st Century Teacher Skill Sets
How to Implement the Flipped Classroom Model in Primary Schools
Now that we are done with the definition of what the flipped classroom model entails, let's move to how this strategy can be implemented in the typical elementary classroom setting. Below are some of the ways a creative and ingenious teacher can adopt and implement the flipped model in the primary school level:
1. Exchange Traditional Homework With Videos Introducing New Work
Instead of sticking to the traditional homework model, it's time to ditch that and introduce short videos with new concepts for students to watch at home. Most often, the video will explain a new concept unknown to the pupils, give a few examples of the concept in action, and then require students to complete and exercise on their own which they will submit in class the following day.
2. Begin In-Class Lessons With Concept Review
When they return to school, students are made to review the concepts illustrated in the flipped video they watched at home. This can take many forms, including teaching questioning or student-to-student review.
3. Group Students Together For Active Learning Experiences
The teacher can use the activity completed for homework or the review/questioning time to assess the students understanding of the concept before splitting the class into groups for differentiated activities. This could be as further support in practising the concepts in the video or as further extension work.
4. Spend Less Time Teaching, And More Time Facilitating Learning
Since pupils are arriving the class with prior knowledge, the teacher will find out that time for direct instruction is much reduced, and such time can then be channelled into more class time working with student groups on activities that meet their needs.
How to Implement the Flipped Classroom Model in Secondary Schools
Flipped classroom models are also apt in high school settings, and have recorded tremendous success where they have been used. Teachers use a number of tools, with some preferring screencasting, while others like to use a simple video camera (or the ubiquitous smartphone) to record instructional videos which students then watch at home and then implement back in class the following day. Below are some of the easy-to-do video creation/editing tools that teachers can use to create their own videos:
EdPuzzle (available on Android, IOS, Chrome, and YouTube extension):
This is a great tool that can be used to make interactive videos by the use of audios and questions. What's more, you can even track if your videos are being watched by your students and the amount of time they spent just to get an idea how well they understood the concept. You can use existing videos or create your own videos.
Playposit (PC and Mac):
With the use of this tool, you can enrich videos with a variety of interactive features. Also, you have access to live feedback from learners, tracking of their response to shared content, plus the ability to add poll survey content. There is also the added advantage of a LMS integration into the software.
Tes Teach (IOS and Google Chrome):
With this tool you can create interactive lesson plans, projects, quizzes, presentations, and discussions. It also includes support for YouTube links, Dropbox, PDFs, and Google drive.
How To Implement The Flipped Classroom Model In Tertiary Institutions
The flipped classroom model can also be implemented even at the tertiary education level. For example, Khan Academy. A MOOC (Massive Open Online Course), has a plethora of educational videos in the fields of science, engineering, computing, arts, humanities, economics, and much more.
In the UK, for example, the University Of Manchester's School Of Social Sciences and computer sciences have both experimented on the use of the flipped classroom model in teaching, providing videos for students to watch before the tutorial and then using teaching time for small group work, which includes problem-based learning activities.
Even universities in the USA have since adopted the flipped model, and its implementation is spreading further afield.
Conclusion
The flipped classroom model has the potential of revolutionizing classroom teaching in that it provides students with the necessary materials to gain a basic level of understanding before class, allowing classroom time to be used to deepen learning and the development of higher-level cognitive skills. As it becomes more and more popular, it's only a matter of time before it becomes standard practice in all levels of education.
I recommend you read our article on The Psychology of Learners in Primary Schools: An Updated look.