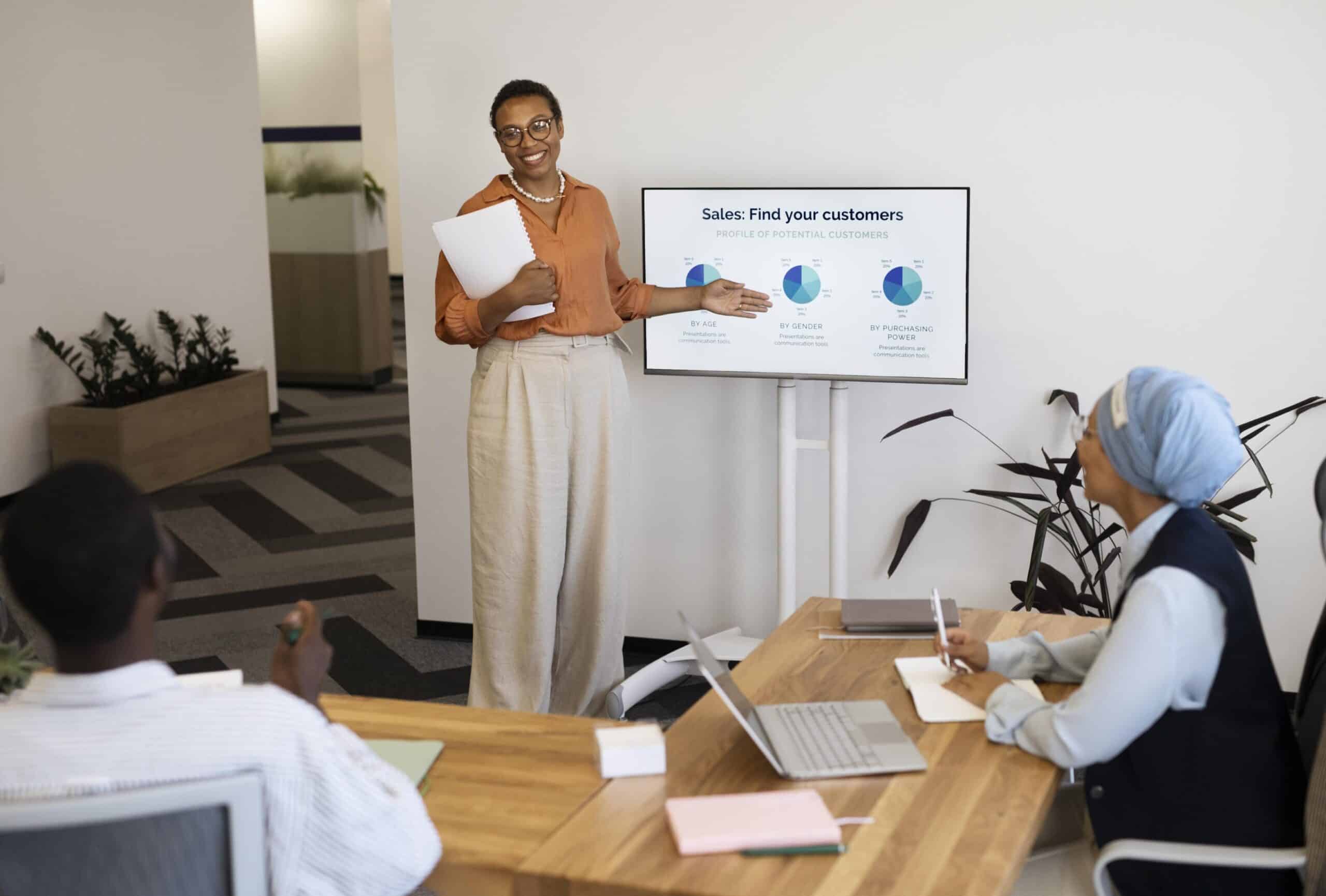 Top 6 Differences Between Sales Enablement and Sales Training
In this blog post, we'll look at the key differences between sales enablement and sales training, and why understanding these distinctions is critical for companies looking to improve their sales strategies.
We'll go over the goals and methods of each approach, as well as the advantages they provide to sales teams and the company as a whole.
By the end of this post, you'll know when to implement sales training and when to implement sales enablement, and how to use each approach to drive success in your organization.
What exactly is sales training?
It's exactly what it sounds like: sales training. It is the training given to salespeople in order for them to understand specific skills.
This category includes traditional seminars and courses, as well as product training, skill training, and onboarding for new representatives.
The goal of sales training is usually straightforward: to increase a company's revenue.
This means that new products must be taught to salespeople, that new salespeople must be taught enough about the company to hit the ground running, and that when a new sales tool is introduced, the sales team must be taught how to use it.
Training can be delivered in a variety of formats, including in-person, virtual, and mobile devices. Sales teams may attend a week-long conference for training, learn on the job, or use microlearning on their phones.
However, training may not always be sufficient to assist a sales team. The Rain Group, for example, discovered that top sellers benefit the most from sales training.
While the stars of the sales team are 71% more likely to benefit from sales training, they are also, ironically, the ones who don't necessarily need training to perform well when compared to their less-successful colleagues.
Sales enablement comes into play here.
Related post: 6 Steps for Designing an Effective Sales Training Program for your Team
What is sales enablement?
Sales enablement is the process of providing sales professionals with the tools, learning, content, and technology they need to be more effective at selling.
The fundamentals of enablement have been around for a long time, but sales enablement has only recently become popular.
According to a recent study, 80% of companies have had sales enablement teams in place for more than two years, while 20% have had enablement in place for less than two years.
Many of those organizations lack a formal enablement strategy; however, 35% have an informal sales enablement vision in place, and 9% use sales enablement for one-time projects.
Whatever form it takes, sales enablement is an umbrella term that encompasses a wide range of tools, techniques, and practices. Enablement can, for example, include:
Email templates
sales content
Customer relationship management (CRM) software
Playbooks
Coaching
The list above is not exhaustive; anything a sales organization requires to meet the needs of sales representatives can be considered enablement.
Training is one component of an enablement strategy, and learning and development (L&D) frequently leads to enablement.
This was the case for Kelli MacIver, a learning and development leader who discovered she was developing a sales enablement strategy rather than just designing sales training.
Because sellers have been under more pressure recently, sales enablement has gained prominence. The pandemic altered the sales landscape, causing more sales to be made through virtual channels.
According to a recent survey, salespeople are still not comfortable with virtual selling; 40% lack knowledge and 29% lack training when it comes to building trust with clients virtually.
Sales representatives are also prone to forgetting the knowledge and skills they acquired during the one-time training sessions that precede a product launch.
According to a Gartner survey, B2B sales representatives forget 70% of what they learn within a week of training. Enablement can help with retention by providing sales reps with a variety of on-message support options.
Which Is Best for You: Sales Training or Sales Enablement?
While a small business may be able to get by with basic sales training, the truth is that, as Alec Baldwin once said, we must Always Be Closing.
Sales do not begin and end with a demo or a proof of concept. Sales enablement entails improving customer experiences throughout the sales cycle, including onboarding, customer education, certifications, and partner enablement.
In an ever-changing market, enablement education and training enable sales and marketing teams to remain relevant and competitive.
This is where a sales training platform comes in, especially since collecting sales metrics is an important part of the job so you can track progress and continue to improve, which you can't do manually.
The differences between sales Enablement and sales training
1) Training was never intended to help learners adopt new behaviors.
Training's role and purpose are simply to communicate and impart knowledge.
'Impart knowledge' or 'Impart information' refers to the act of passing on, transmitting, or communicating information or understanding about a subject to another person or group.
While training and information sharing on behalf of sellers and recruiters is important for their development, it falls far short of what they require to consistently perform.
Why? Because recruiters and salespeople have very specific training requirements.
Any sales training or recruiter program's goal is to change behavior. However, simply communicating facts and sharing knowledge will not change behavior.
Consider participating in a workshop, webinar, conference, or other live, instructor-led training. You sit in a room while a facilitator, typically a trainer or company leader, presents information to you.
The facilitator speaks, while the audience listens (sure, they may do some exercises). The key points are presented and discussed, but it is entirely up to each individual learner to adopt and apply the knowledge in the field. Reading a book or a corporate training manual is the same.
Training was never intended to assist students in implementing training material in the field or on the job. Training was never intended to foster new skills and behaviors like projecting confidence, demonstrating credibility, disarming a candidate or prospect, or asking timely discovery questions.
2) Training is Tactical
Training is tactical in part because it is event-oriented and managed as a project with a start and end date. The goal of training is to reduce time to completion. There is nothing sustainable, scalable, or repeatable about training.
The following are some of the common characteristics and behaviors that reduce training to a tactical, ancillary task.
Lack of executive sponsorship
Managers are inconsistent, non-existent, or "exempt" from training participation. New employees are required to complete training, while tenured, "experienced" employees are not held accountable for training participation.
Nobody owns the education.
The training leader has authority to administer training events but not to implement strategy.
Instead of the buyer's and candidate's journeys, training content focuses on product and service offerings, marketing literature.
Synonymous with education (and still relies on) LMS stands for Learning Management System.
Many staffing firms have moved their training content online, either to an LMS or Learning Management System or to an online shared drive.
While making training content available online is a step in the right direction, traditional learning management systems (LMS) lack the capability and functionality to support the unique training needs of recruiters and sellers.
An LMS is essentially an online repository for storing, managing, and administering training content. LMSs were created to assist Training Managers, not the individuals receiving training!
3) Leaders are in the dark about ROI because of training.
Training allows you to track and measure attendance at a workshop, presentation, or webinar, but it does not allow you to track and measure field adoption.
You can't track and measure how frequently and effectively a learner applies the training material during sales calls or candidate interviews. Learner competency cannot be tracked and linked to field results.
This leaves leaders in the dark about the ROI of training and makes them wary of investing in future training initiatives.
The Training Bottom Line
Training was never intended to assist learners in acquiring new skills or behaviors.
Training was never intended to assist students in applying new skills and behaviors in the field.
Training is managed as a tactical, ancillary task or event with a beginning and ending date.
Training fails to engage the organization's key stakeholders and fails to align with and support the organization's overall go-to-market strategy.
Because training lacks the ability to track and measure learner competency, leaders are left in the dark about ROI.
Training is still a critical component in the development of your salespeople and recruiters. However, training is only one component of the overall enablement solution that an organization should implement.
4) Enabling is a strategic decision.
Enablement is outcome-oriented, with the goal of making winning behaviors repeatable and scalable. The goal is to improve predictability in sales results. However, doing so necessitates a shift in how you run and manage your enablement programs.
Enablement, unlike training, is managed as a strategic revenue-generating discipline distinct from other functions such as finance, marketing, or operations.
Enablement is managed as a separate, strategic discipline with its own KPIs, governance model, and is accountable for revenue growth, much like a CFO manages a finance department or a CIO manages an IT department. Organizations live and die based on the success of their sales and delivery (recruiting) organizations, so enabling them should be a top priority.
Second, enablement includes the creation of a formal enablement charter. Your enablement charter serves as your business plan, guiding you through the process of transforming random training events into a formal, scalable, and strategic enablement discipline with a quantifiable impact on the business.
Your charter should also specify how your enablement services align with and support the business and sales strategies.
For example, if your organization's goal is to grow by opening new offices in new markets, your enablement charter will detail how it will support this strategy.
Your charter is how you (training managers) gain C-suite support and funding.
5) Collaboration is essential for success, and it is a core value of Enablement.
As previously stated, enablement is managed as a distinct, revenue-generating discipline distinct from other functions such as finance or marketing.
However, this does not imply that all enablement services are created and delivered in isolation. In fact, effective collaboration is required to have a quantifiable impact.
Collaboration is the means by which enablement services are developed, delivered, and, most importantly, adopted.
Enablement is a collaborative effort, and enablement leaders' primary role is to orchestrate the efforts of others in order to create and deliver consistent and effective enablement services.
However, for many organizations, collaboration simply means "keeping others informed." Organizations with a more formal approach to collaboration outperform organizations with no approach or an ad hoc approach to collaboration by up to 21%.
Unlike training, sales enablement includes a structured approach to collaboration.
6) Consistent, Continuous, and Ongoing Enablement
According to cognitive science expert Art Kohn, humans forget approximately 50% of new information they encounter within an hour and an average of 70% within 24 hours.
He claims that after a week, the average rises to 90 percent.
There are numerous other studies that support similar findings (Google "memory retention statistics"). So it doesn't take a rocket scientist to figure out that continuous, ongoing reinforcement is required for training to stick and have a lasting impact.
Not only that, but markets change, bad behaviors resurface, new competitors emerge, and sales strategy and business goals shift. As a result, in order to adapt and thrive, salespeople and recruiters must be constantly equipped with the necessary skills and knowledge.
Conclusion
Sales enablement and sales training are both effective methods for improving the performance of a sales team, but they serve different purposes and necessitate different approaches to success.
Individual sales reps are trained to develop specific skills and knowledge, whereas sales enablement aims to provide the entire sales team with the tools, content, and resources they need to sell more effectively.
Businesses can optimize their sales strategies and achieve greater success by understanding the differences between sales enablement and sales training.
Sales training is best for new hires or addressing specific skill gaps among sales reps, a sales enablement is best for supporting ongoing sales activities, improving sales team collaboration, and ensuring that reps have the resources they need to close deals and drive revenue.
The key to sales success is to evolve and adapt to changing market conditions and customer needs. Businesses can create a culture of continuous learning and improvement by leveraging both sales enablement and sales training, allowing them to stay ahead of the competition and drive long-term success.