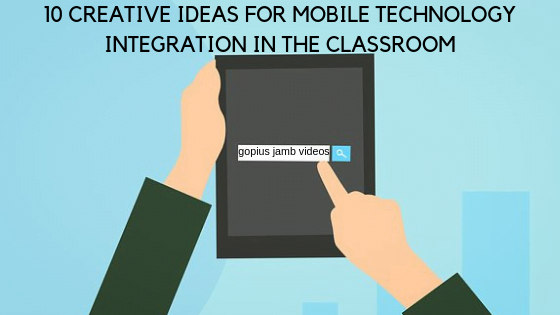 Mobile Technology Integration in the Classroom
In years past, the use of cell phones in class by students was considered a distraction and impediment to effective learning. However, in recent years, more and more teachers, instructors, educationist and school administrators have come to understand the awesome benefits of mobile technology integration in the classroom, if deployed responsibly.
In a typical high school classroom today, more than 95% of the students use mobile phones and other devices to interact with friends and classmates, and at least more than a quarter of such devices are internet-enabled. With the rise of smartphones, there are has been increasing discussion on the benefits of incorporating the use of mobile technologies into classroom teaching in order to fully harness the potentials that these technologies promise.
Read also: Top 10 Skill Set for a 21st Century Teacher
10 Creative Ways of Mobile Technology Integration in the Classroom
Since mobile technologies have become an essential part of our daily lives, even in the classrooms, it is high time we found creative ways of harnessing the awesome power that they portray. Here in this article, we are devoted to exploring creative ways in which mobile technologies can be integrated into the classroom in order to enhance the learning process:
1. Use of audio recording feature in most smartphones
Most smartphones are currently equipped with in-built audio recording devices that can come in handy in the classroom. Students, in most cases, require teachers to offer personal feedbacks on the assignments and classwork they turn in. teachers can utilise these audio recording features on smartphone to provide personal, yet quality feedback to all their students. Research has shown that students not only like these digital feedbacks; they even prefer it.
2. Live Polling Tools
Teachers can creatively use live digital polling/quizzing tools as welcome and exit tickets in the classroom in order to form assessment. Teachers can deploy some of these polling tools (a majority of which are free) to determine what part of lessons students already know and which part to concentrate on. This can provide valuable insight on the strength and weaknesses of individual students, allowing teachers to be aware on how to give personalised instructions where needed.
3. Create Videos
Instead of having students labour through 2,000 word essays, something which they are most likely to copy and paste from online contents they hardly understand, teachers can ask their students to make a research and create 5 minute videos ( or audio recordings) of what they researched about. This is not only interactive, but it also allows the students to be original with their research findings and conclusions.
4. Create Online Chat And Discussion Forums
Teachers and instructors can utilise the group chat features embedded in most smartphones and other mobile devices to create online group discussion forums where the entire class participates, with each student having a say on content topics, even outside the classroom. Students can log into the class group chat, even over weekends, chat and discuss on some course content and share ideas, further increasing their understanding of some of the concepts taught in class.
5. Use Of Quick Response Codes
This is another way of creatively incorporating mobile technology in classrooms. In this instance, links to further resources, complex diagrams and images, as well as solutions to tasks could be coded and then made available to students.
6. Video streaming
There is an old adage that, 'a picture says a thousand words'. If that is the case, imagine how many words videos can say. Mobile technologies can be creatively employed in the classroom by way of video streaming content to students to have a clearer and more complete picture of the lesson taught. YouTube offers this rich resources and teachers can even find awesome videos that complement each lesson.
7. Play Educational Games
Using devices such as iPad and tablets, students can learn and play all kinds of educational games such as scrabbles and word games. They can keep track of their progress and even compete with other students as they advance to the next level on the game. What these games do is build their minds, engage their cognitive processes, while also offering a non-traditional means by which students interact with one another.
8. Use Social Media To Advantage
Do not ban social media from the classroom; embrace it instead. Students are already enamoured with the use of social media outside the classroom; you only have to find a way to creatively bring it into the classroom in order to find an educational angle to it. For example, you can creatively use Facebook and Twitter to advantage by posting topics on the class group, and getting students to interact and get involved with one another. This is a fun way for them to share resources and help one another out.
Learn also How to Use Social Media for a more Effective Teaching and Learning
9. Blogging
Getting students to post their works in blogs in another way on creatively making us of mobile technologies in classrooms. Students can help each other by making comments and suggestions under one another's work. Since their work is likely to be made public, there is every likelihood that they will strive to come up with high quality content.
10. Collaborative Exercises
Last but not the least way of creatively incorporating mobile technology in the classroom is by letting students use them in group work. Students can come together in groups with their tablets or iPad, and teachers can choose which of the works she wants to show on the screen.
Read also: The KInd of Teachers Modern Schools Should Recruit.
Conclusion
Mobile technology integration in the classroom is gradually gaining momentum. Teachers can creatively incorporate this into their teaching regimen in order to enrich their teachings. As a teacher, if you are ready to integrate mobile technology into the classroom, you are on your way to enriching the learning potentials of your students through the use of mobile technology. Mobile technologies in classrooms offer an unlimited opportunity for students to learn lot about their course content and even the world around them. It is high time teachers adopted these technologies in order to further enrich their classroom experience.
All these can be easily achieved with the use of a Learning Management System like Gopius LMS – Try and find out more about our mobile friendly LMS. Do not forget to share our post.
Request for our LMS Demo now!!!