The Future of Learning – How Technology is Shaping Education Today
There is no doubt that the improvements in technology have changed a lot of daily fields like healthcare, automotive, and education. 
In this blog post, I am going to only address how advanced technology is shaping education today. So, without discussing any other additional things, let's head towards the details.  
How Technology Has Changed the Modern Education
Technology is transforming the modern education environment in a number of ways; some of the major ones are discussed below: 
1. Quick access to information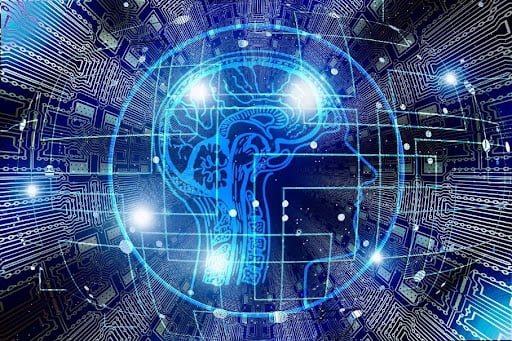 After reading the heading, most of you out there will have an efficient idea of what I'm going to discuss in this article. 
Before the advancement in technology, we all know both students and teachers have to go through several books in the library to get familiar with the required information. This will definitely kill most of their valuable time, effort, and energy, which further leads to reduced academic performance. 
Fortunately, with the introduction of technology, this issue has been resolved. Both students and teachers make use of browsers or search engines like Google to quickly explore information regarding every topic. This will definitely save you time and effort and allow you to focus on other essential academic tasks.  
2. Maximum flexibility and convenience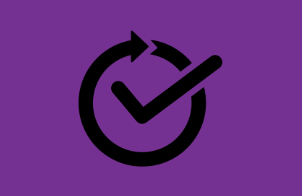 The technology has made education more flexible and convenient. Want to know how? Let me explain. 
For instance, technology has allowed teachers and students to take and attend classes online without leaving their comfort zone. Along with this, students can create and submit homework assignments anytime and from anywhere in the world. 
On the other hand, before the arrival of technology, both teachers and students must be physically present in the classroom to continue the education process without any delay. 
And we all know that being physically available in class is not always possible for both the teachers & students, especially during harsh weather conditions or crises. 
3. Effective collaboration or communication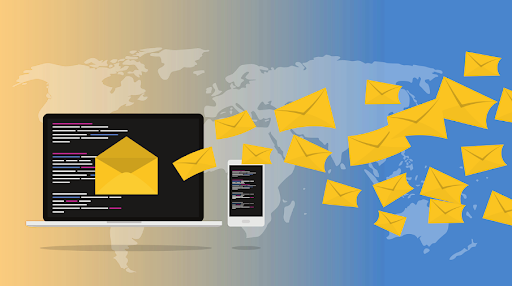 This is yet another way through which technology is shaping the modern education. Technology has made it a lot easier for students and teachers to collaborate and communicate both inside and outside the classroom. 
Let me explain this with a proper example so that you can have an efficient understanding of what I'm trying to say. 
Students can make use of different online platforms, wikis, or forums in order to share their thoughts or ideas with others at once without physically meeting them. I personally believe that collaborative learning will definitely contribute to enhanced learning abilities of the students. 
So, these are some of the ways through which technology is transforming education today. 
Read also: The Bright Future of Blockchain Development Technology In Education
Advanced Technological Tools That Are Shaping the Modern Education
Below, I have discussed some of the best educational tools that are greatly shaping the modern education process. 
1. ChatGPT
On top of the list, I have this Artificial Intelligence-powered content-generating tool. This tool operates on Natural Language Processing (NLP) and Machine Learning (ML) to efficiently understand the input prompt of the human and then respond accordingly. 
This tool is helping both students and teachers in a number of ways. For instance, teachers can make use of ChatGPT to quickly get familiar with all essential information regarding the lectures that they are planning to deliver. 
On the other hand, students can make use of this as an assistant in preparing assignments, presentations, and other academic-related tasks. 
In simple words, both teachers and students can ask the tool whatever they want, and it will quickly generate a response to the asked question. To demonstrate this, I am going to ask this tool about "Bohr's atomic model" and the response it generated is in the picture below: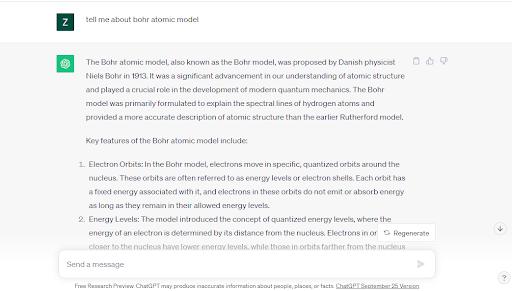 Pros:
Free to use

Quick and accurate

Eliminated the need to scroll through different articles on the web to find the required info
Cons:
Knowledge restriction of September 2021
2. PrepostSEO.com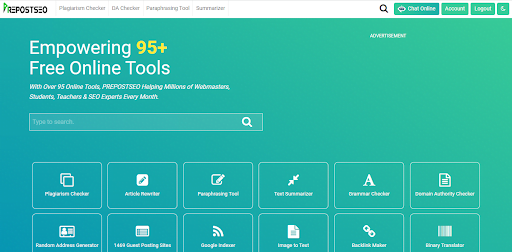 Basically, PrepostSEO is a comprehensive suite of 95+ free online tools that can greatly help in shaping modern education. Some of those tools include:
Plagiarism checker

Grammar checker:

Summarizer: 

Paraphraser
PrepostSEO's Plagiarism Detector: Plagiarism is a common issue in education, and this tool will help in tackling that issue. It compares the given text with all the online resources to find the smallest instances of plagiarized content. If any are found, the tool will underline them with a red line along with the matched source. 
Grammar Checker: This tool will check the given text to find all kinds of grammar, spelling, and punctuation errors in it. Along with this, it will also provide appropriate suggestions for the detected mistakes. By utilizing this tool, students can quickly make their academic material free from mistakes, completely eliminating the need for manual proofreading. 
Summarizer: This free tool of PrepostSEO has the ability to condense long pieces of text into a short version by only using the main points. Students can use this text summarizer to quickly abstract of research papers. On the other hand, teachers can use it to create concise summaries of chapters. 
Paraphrasing tool: This tool will paraphrase the input text to improve its overall quality in terms of readability, clarity, and uniqueness. While paraphrasing, the tool ensures the original meaning of the given text remains the same. It can be a handy option for students who lack writing abilities and are struggling to come up with good academic content. 
Pros:
A wide suite of educational tools.

Most of the tools are completely free to use

Useful for both teachers and students
Cons:
You may have to experience frustrating ads while using tools
3. Onlinenotepad.io
This is an advanced technological tool that is reshaping modern education. Basically, it is a completely free-to-use online notepad that allows academians to take note of essential things online. 
It also allows them to download those notes either in the form of a Txt file, PDF, or Word file. Apart from this, it also allows teachers and students to share the saved notes all across social media platforms, email, and other messaging apps (via link). 
One thing that I personally like about this online notepad is that it offers text formatting features like popular word processing software, i.e., MS Word, Google Docs, etc. The formatting features include assigning heading tags (H1, H2, H3…H6) to the text, adding bullets or numbering to the text, inserting images, etc. 
In order to provide you with a better understanding of all this, I have attached an image below; give it a look.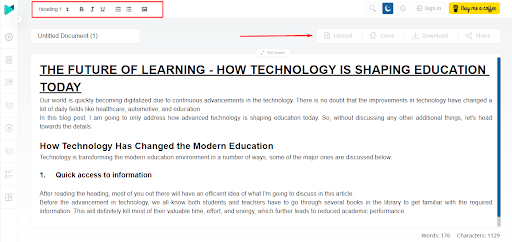 Additionally, this notepad also offers applications for Android, iPhone, and desktop users, along with the option to synchronize all the saved documents to different devices simultaneously. 
Pros:
Completely free to use

Safe and secure

Gives the option to both download and share the created notes

Offers numerous text formatting features. 
Cons:
Didn't find any specific cons yet!
4. Imagetotext.io
As the name suggests, the Imagetotext allows teachers and students to quickly perform data or text extraction from pictures, scanned or handwritten documents, and many more. Utilizing this tool will eliminate the need for them to manually spend time and effort to extract editable text from educational pictures or documents. 
The tool operates on both AI and OCR technologies that perform text extraction processes with 100% accuracy. The good thing is that this tool has the ability to efficiently extract data from low-quality images. Along with this, it can also detect and extract mathematical equations, special symbols, or characters from the input. 
Let me explain it's working with a live demo; I have submitted a text image to the tool in order to see how it extracts text from the picture.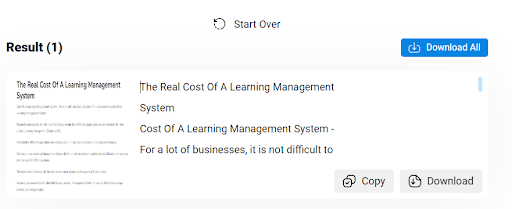 Pros:
Simple and free to use

Utilize a combination of AI and OCR technology

Supports 16 languages and multiple image formats
Cons:
Sometimes, it may take time to come up with the output results.
5. Sourcely.net
This is the final educational tool that I will be discussing today. Sourcely is an AI-based tool that can be a good option for finding, summarizing, formatting sources that are used in academics. 
Sourcely has made it quite easier for students to find the required sources that they can include in the academic material to increase its credibility. All they have to do is to just provide the topic to this AI tool, and it will quickly come up with a number of relevant yet credible sources against the given topic. 
To provide you with an efficient idea about its working, I have submitted "Overview of AI Technologies." Check out the picture to see what sources the tool provided.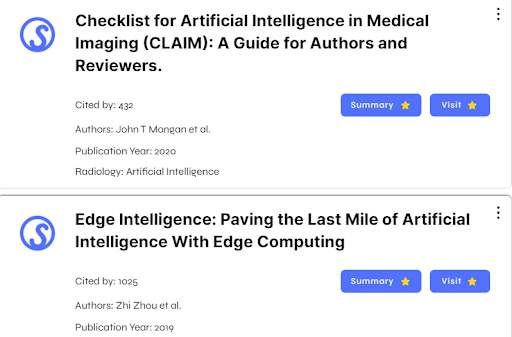 Pros: 
Simple user-interface.

Highly quick at finding sources.

Gives the option to generate a short summary of the source.
Cons:
Sometimes, it may come up with irrelevant results. 
Key Takeaways: 
Technology has changed education today in multiple ways like quick access to information, online learning, and collaboration. In this article, I have explained these in complete detail, along with some useful educational tools that are reshaping the education environment in a positive manner.