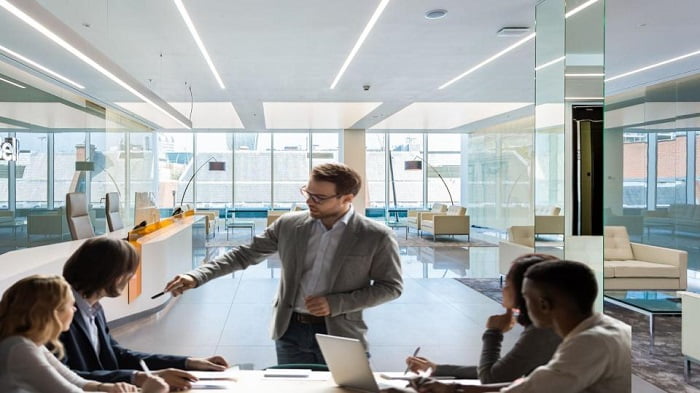 6 Qualities To Improve Your LMS ROI: A Complete Guide
Purchasing training software as well as knowing the 6 qualities to improve your LMS ROI is two different things altogether.
While there are many options to take into account, it's crucial that businesses pick a learning management system (LMS) that offers the best organizational fit and return on investment (ROI).
We advise further research into how specific key features can impact your company's ROI if your firm is seeking robust LMS reporting and analytics that result in more successful training outcomes.
If your firm is looking for robust LMS reporting and analytics that result in more successful training results, we recommend looking into how some important qualities can improve your company's ROI.
Before we start explaining the 6 qualities to improve your LMS, we need to explain the basic terminologies.
What is Learning Management System?
A learning management system (LMS) is a piece of software or web-based technology that is used to organize, carry out, and evaluate a particular learning activity.
What is Return On Investment(ROI)?
The term "return on investment" describes the amount of profit that can be directly attributed to a cost or set of costs.
Businesses typically use ROI to gauge the success of a certain initiative or acquisition. If a business owner spent money on an advertising campaign, they would evaluate the sales the campaign produced and use that data to calculate the ROI.
The profit would be referred to as the ROI of the advertising campaign if the revenue generated outweighed the amount spent.
6 Qualities To Improve Your LMS ROI
The following are the top 6 qualities to look for in your future LMS in order to maximize your ROI and improve the entire learning and training experience for staff members:
1. Unique Reports
Organizations can select which metrics to track and how they want to see this data using online custom reporting.
Business executives can assign user responsibilities and offer pertinent reports to team members by selecting a system with custom reporting features.
These could include certification progress reports, which managers can use to identify both top achievers and underperformers.
2. Support For Multiple Languages
You won't need additional online tools to translate information if your LMS is effective. The localized version of learning and training content, which is often depending on user location, should instead be displayed automatically by your LMS.
This guarantees that every team member has the same training chances and enables employees access to training materials in their native tongue.
In light of the fact that 40% of businesses currently provide at least some remote work, this will be crucial going forward.
3. A Tool For Writing Courses
Learning and development managers may swiftly create and develop learning resources and online courses using a fully integrated course authoring tool, keeping up with changing business needs.
This not only guarantees that content can be quickly changed internally, but it also lowers expenses by doing away with the requirement for additional tools when creating content.
4. Certification Administration
Choosing an LMS that provides proper certification management is advantageous to corporate leaders as well as personnel.
Manually tracking certifications can take a lot of effort, and if a renewal is overlooked or neglected, employees may unintentionally put the organization in violation of regulatory compliance.
A single source of truth for employee training data is created by tracking certificates in an LMS, and many systems have built-in reminders to make sure renewals are finished on time.
5. Scheduling Reports Automatically
Organizations can specify not only who receives this data but also how frequently by using automated report scheduling in conjunction with bespoke reporting features.
Your managers will be able to concentrate on data integrity and maintenance by eliminating reminders and enquiries thanks to this.
Organizations can automate weekly email links, for instance, to ensure that stakeholder reports arrive in their inboxes before they are even requested.
6. The Use of Games
The goal of gamification, a rapidly spreading trend in the workplace, is to make learning and training procedures more enjoyable and rewarding.
It has often been demonstrated that the gamification strategy raises staff engagement, output, and pleasure.
Your company is likely to experience significant increases in training ROI by significantly increasing learning engagement and participation rates—while also identifying top team members along the way.
How To Improve Your LMS ROI For Your Business
While an LMS's qualities are important factors to take into account when trying to increase the return on investment of your learning and training programs, concentrating on particular actions, like increasing revenue, cutting costs, and generally improving workplace productivity, can be a significant help to this goal.
Here are some helpful hints to make sure your system delivers the greatest value for your business:
Choose a system that is affordable: Businesses require an LMS that boosts productivity while reducing expenses. Finding a system provider who offers customized pricing alternatives to match your unique demands may fall under this category.
Increase accessibility and mobility: Workers should be able to access training materials whenever and wherever they need to. Effectively removing obstacles to learning and training possibilities in your organization will be a powerful LMS.
Support proper professional development: The best LMS will support professional growth and assist staff in achieving individual objectives. Organizations may boost staff retention and lower long-term turnover costs by enhancing learning opportunities and employee satisfaction.
Minimize in-person training because it is expensive. With an LMS that streamlines the online training process and yields positive outcomes, physical training costs—including locations, instructors, materials, and travel costs—can be reduced.
To maximize usage and enhance both the training itself and subsequent employee happiness, improving the ROI of your LMS should be a continual goal that is worked on over time. In the end, selecting a high-quality LMS and using it correctly will result in the greatest future development in your LMS ROI.
Conclusion
The mix of your LMS features can ultimately and significantly help or hurt learning outcomes.
In order to provide the best online training, it is advised to adopt these 6 qualities to Improve your LMS ROI, If your firm is looking for robust LMS reporting and analytics that result in more successful training results.